Best Galleries and Museums in Prague
Let's take a look at a variety of museums in Prague. There's much more to the city than sightseeing and most are convenient in the city center.
So, get ready to leave the cobblestones for a bit and plan some indoor time.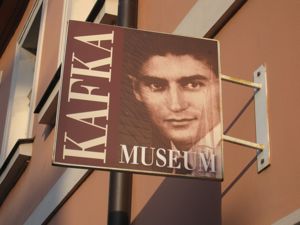 Prague Museums, what would Kafka think?
To prove it, we've worked up a list of museums that can easily compete for your sightseeing time.
This is a tight list of recommendations, so apologies if you're looking for a colorless list of all the museums in Prague.
Below, we highlight the National Museum and the Jewish Museum in Prague - and a few other lesser known museums to tempt you away from the typical sights.
---
Jewish Museum in Prague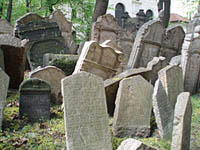 Old Jewish Cemetery
First, let's clarify something about this museum that confuses a lot of people. The Jewish Museum is not one museum.

Rather, it's a collection of 6 different sites in the Jewish Quarter, or Josefov.
Formally, this group of sites is known as the Jewish Museum in Prague.
Admission to the "museum" includes four synagogues, the famous Old Jewish Cemetery and the Ceremonial Hall. Discount tickets are available to those with a Prague Card.
No matter your age or experience level, the museum is worth it. You can easily spend a full day here exploring, reading and absorbing all the details and historical elements.
Please note, the Jewish Museum in Prague does not include the Old-New Synagogue. You can access this site separately or with a more expensive, all-inclusive ticket.
Read more about the Jewish Quarter

Metro to Staroměstská. Tram: 17 and 18. Open daily except Saturdays and Jewish Holidays.
Art and Historical Museums in Prague
National Museum
Lengweil's beautiful model of Prague
The National Museum at Wenceslas Square houses a collection of natural and scientific exhibitions. It's closed for renovation till 2018, but the museum has added an adjacent building for current exhibitions.
Web site: www.nm.cz. Metro A and C to Muzeum
The National Museum in name is also a collection of other museums. Three of our favorites in their group include...

Czech Museum of Music
This museum offers a wide variety of changing exhibitions based on Czech music and its influences. The museum also has occasional concerts. Address: Karmelitská 4, Malá Strana
National Memorial on Vítkov Hill
A highly recommended destination, with both beautiful and bizarre elements. Once used as a mausoleum for Communist leaders, it now showcases historical perspectives of Czech Republic. Address: U Památníku 1900, Prague 3
Museum of the Capital City of Prague
This museum has a variety of both temporary and permanent exhibitions including Baroque art and artifacts of a Prague long ago.
But, the museum's real gem is Langweil's model of Prague. This paper reconstruction of the city by Antonin Langweil was created over 11 years (1826-1837) - often at night and in secret.
The amount of detail and effort put into the model is simply incredible. It's worth the price of admission alone.
Tip: Call ahead and reserve a seat for the 3D film of the model.
Web site: www.muzeumprahy.cz
Metro B and C to Florenc. Tram: 3, 8 and 24. Open daily except Mondays and some holidays.
The National Museum also includes the beautiful Antonín Dvořak Museum, the rarely visited Lapidárium with original sculptures from Charles Bridge, the Naprstek Museum, and Bedřich Smetana Museum.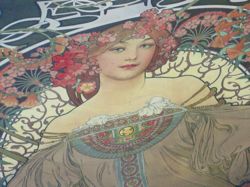 A work by Alfons Mucha
National Gallery
www.ngprague.cz - The National Gallery is another deceiving name because the gallery is a actually group of gallery spaces strewn across the city. Works of art within the Gallery group ranges from medieval art in Europe to Czech cubism and modern art.
If you can't spare the time to see the art inside, you might consider just coming by for the visual appeal of some of the particular buildings. Our favorite spaces include the Convent of St. Agnes of Bohemia for its old beauty and Veletržní Palace for a modern break.
City Gallery of Prague
www.ghmp.cz - The City Gallery has two gallery spaces that are ideal for visiting if you have just a few days in Prague. We suggest trying the House
at the Stone Bell or the Old Town City Hall. Both galleries are right on Old Town Square.
Mucha Museum Prague
www.mucha.cz -  Metro: Mustek -  Open daily 10 - 6.
This museum is all about the Czech icon of Art Nouveau, Alfons Mucha. With a variety of paintings, drawings, photographs and more on continuous display, this makes for a very memorable museum moment. Not to be missed if you enjoy Art Nouveau.
General Museum Info
These bits of information just might make visiting museums in Prague more enjoyable...
Many museums in Prague are closed on Mondays.
Plan to take photos inside? Ask when buying tickets because extra fees may apply or you risk being scolded inside.
Traveling to Prague with children? Many museums have a family ticket price that will save you money.
Most Prague museums are staffed by retirees who are known to keep a stern eye on visitors. So, be on your best behavior :-)
Contemporary Museums and Galleries
DOX Center for Contemporary Art

Simply one of the best galleries in Prague, DOX has a constant mix of interesting art rolling through its doors. From mixed media, to large installations and films - there seem to be no borders here.

And, DOX makes for a great reason to get out of the tourist city center and see a different part of town, Holešovice.
Web: www.dox.cz
Metro C to Nadraží Holešovice. Tram 6 and 12 to Ortenovo náměstí.
Open daily except Tuesdays.

Museum Kampa
Museum Kampa is another easy museum to add to a day of sightseeing in Prague. Its prime, yet quiet location on Kampa Island is just south of Charles Bridge.

Once a mill, the building here dates to the 14th century and sits delightfully on the banks of the Vltava River amidst the greenery of the island.
If you are short on time, come here just for the outdoor statues, views of Old Town and the peaceful atmosphere. Of course, once you see the place, you'll likely feel pulled inside for more.
Web: www.museumkampa.cz
Tram: 12, 15, 20, 22 or 23 to Malostranské náměstí
Open daily except holidays.

---
Fun and Unique Museums in Prague
National Technical Museum
This unusual Prague museum is a buffet of all things mechanical, technical, industrial and so on... from real airplanes hanging from the rafters to antique cars, model trains, printing presses and more. Children in particular love this place. And, it's very close to Prague's Letna Park with excellent views over the city and one fine beer garden.
Web: www.ntm.cz
Tram: 1, 8, 18 or 26 to Letenské naměstí
Open daily except Mondays.

Public Transport Museum
Once a transport depot, this museum includes an assortment of old buses, trams and transport related displays from Prague's past. The admission price is family friendly and from April through October you can hop on the Nostalgia Tram 41 from here for a fun rattling ride through Prague.
Tram: 1 or 18 to Vozovna Štřešovice
Open daily except Mondays.

Museum of Miniatures
The Museum of Miniatures is a collection of works of art created by Anatoly Konenko that are so small you'll need the help of magnifiers to see them. Full paintings and portraits are placed inside things like the eye of a needle or on a human hair. It's a small exhibit so take a few minutes to be wowed.
Web: www.muzeumminiatur.cz/en
Tram: 22 to Pohořelec
Open daily.

There are plenty of other museums in Prague that are worth considering. Here are a few honorable mentions:
Museum of Medieval Torture Instruments - mostly for tourists, but odd and fun at the same time.
Franz Kafka Museum, a lovely location for all about Prague's famous writer.
Charles Bridge Museum, insights into the history and legends of this 14th century bridge.
Obecni Dum, this fantastic Art Nouveau building includes a large gallery space that offers even more reason to look around inside.
Galerie Rudolfinum, adjacent to Prague's popular concert hall, the gallery is known for its thought provoking exhibitions and popular artists.
Map of Museums in Prague
Click on any of the blue markers on this map to explore our recommended museums in Prague in more detail. Most are very central and all have good transport connections.