Cheap Prague Things to Do

Local, fun stuff to do on a budget
This list of local Prague things to do is meant to get you doing something different. Some are off the beaten path, unusual and a surprising.
But all of these things are cheap. And, they are definitely specific to Prague. So dust off your map, get your walking shoes on and get ready to go local.
---
Pick your starting point...
---
Outdoor Prague things to do
Farmer's market at the river - Náplavka is my personal favorite market. It has the perfect mix of fresh produce, food, drink, music and atmosphere. Stop by on Saturdays 8-14:00. Then push your visit further by crossing over the train bridge to Prague 5. You can walk back along the river to Ujezd or head to Smíchov for restaurants and shopping.

Visit Franciscan Garden - the perfect place when the weather is nice. And, it's hidden right in the middle of Prague. I absolutely sitting on the bench with a coffee and just watch people go by. The view of the Church of Our Lady of the Snows is also incredible.
Rent a pedal boat - this may be an obvious choice, but it's fairly cheap and lots of fun. I generally choose a boat from Slovanský Island, but there are other options along the river.
Visit Letná Beer Garden - you haven't had a beer in Prague until you've had one here. Letná is more than just beer though, it's a relaxing summer vibe with grand views of the city. I like to walk here from the tram stop Chotkovy sady (tram 12, 20).
Stop at Petřín Refreshment Bar - it's easy to say visit Petřín for your Prague things to do. But, if you stop at the refreshment bar (občerstvení) then you get a real Czech experience. The občerstvení is an ubiquitous sight across the country. Drinks, food and a great view too.
My favorite view? - there are so many viewpoints in Prague that offer excellent vistas, but one of my personal favorites is in Petřín where the statue of Our Lady from Exile stands. I like the peacefulness and connection to nature, plus there is a certain physical satisfaction in getting there.
Feed the animals - ok, so your hotel's breakfast served stale rolls… no problem, take them with you to the beautiful Vltava River where you can find ducks, swans and even a river rat waiting for your visit. Seriously though, the little "beach" areas in Malá Strana and Střelecký Island are beautiful spots for a great photo and some local fauna.
Visit the Metronome - this giant functioning apparatus moves back and forth from Letná park. The view from here is simply awesome. And the metronome itself is pretty cool. Stop by to watch the skaters or have a drink at the cafe.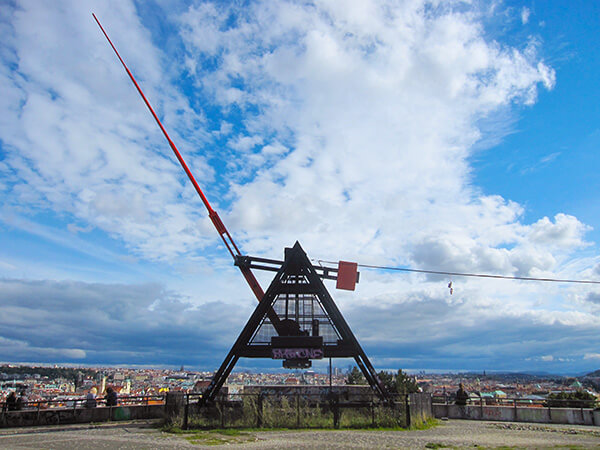 David Černý sculptures - Prague is littered with statues, sculptures and other public art pieces. But Černý's original and unusual work stands alone in many respects. Make your own "sculpture walk" and visit a few of his delights across the city.
Secret casemates - visiting Vyšehrad is always a good idea, but don't leave without visiting the hidden casemates. It's simple to do and cheap and has a big pay off. I won't say more.
Funicular at night - everyone rides the funicular during the day. But taking it up Petřín hill at night is an unforgettable experience. Just seeing Prague Castle is priceless. Get a ticket for 32 CZK, so you can walk around through the park and then ride back down if you want.
Štefánik Observatory - very close to the funicular, rose garden and Petřín tower, these old telescopes peering into the skies offer a dose of universe day or night.
See these Prague things to do on the map below.
Indoor, rainy and winter day ideas
Prague Transit Museum - combine a trip on the Nostalgia Tram with a visit to this depot turned museum. The tram starts/ends here. It's a fun place for kids, or the transit addict in your family. Cool old trams and buses galore.
Shakespeare and Sons - this English bookshop proves that books are still worth buying. Not only do they have a good selection of new and used books, but they have one of the best reading nooks in all of Prague. Just go downstairs and sit by the window.
Antique bookstores (antikvariát) - the lives of these quaint shops may be limited in our digital age. So by all means, visit one of these book shops. You could easily spend a day in Prague traversing from one to the next, picking up books, maps, old postcards, you name it.
Amazing Model of Prague - I am shocked every time I see the Langweil three dimensional replica of Prague. It's simply an amazing labor of love. And, it makes for a perfect rainy or winter day destination, housed in the City of Prague Museum. 
Classic cinema - enjoy a film in one of Prague's old cinemas and skip the overpriced multiplexes. Kino Světozor, Kino Lucerna and Kino Aero are favourites that provide a rich experience.
Dobrá Čajovna (Good Tea Room) - one of the calmest Prague things to do is to sit in this pleasant tea room along Wenceslas Square. It's a great place to stop, rest and enjoy some delicious tea. It's my perfect cure for a cold or rainy day.
More details for Prague things to do on the map.
Prague things to do, any time!
Fanta's Café at Main train station - Prague's Hlavní nádraží is a place of odd contrasts. Travelers are pulling suitcases through nondescript areas downstairs, while upstairs the Art Nouveau glory of Fanta's Café awaits. It's been recently modernized, but its original essence remains.
View from a spy's nest - my love for Malá Strana runs deep. Climb the belfry of St. Nicholas' Church and you'll understand why. Oh, and check out the old spy's lair while you're at it.
Sauna on a boat - now, this, is a unique experience. It's a sauna on a boat - on the Vltava River at Náplavka - great view included. If you get overheated, guests are welcome to jump in the river!

Tour Old Town Hall - I've always thought that more people should take advantage of visiting this historic place, but alas there are so many other Prague things to do. If you have time, take the quick tour for a bit of history then climb to the top of the tower. Incredible stuff.
Žižkov Television Tower - this enormous futuristic tower is a bit strange. But, it offers an incredible perspective of the city. Visit for the view or just walk around the base of the tower for an unreal experience. And it's a reason to visit the pub friendly neighbourhood of Žižkov!
Water sprite and mill wheels - Kampa Island is a dream combination of Prague things to do. You've got green space for picnics, fantastic views of Old Town, Museum Kampa and two mill wheels. And… there is one very cool water sprite of sorts (Vodnik).
Drink Kofola? - don't leave Prague without trying this Czech soft drink. It's a simple experience, one you may or may not enjoy - but, hey, it's a Czech thing. It's even poured from a tap, just like beer. Because, well, it's Czech?!
Ride the tram - there is no better way to see the city than getting a window seat on a tram and going for a ride. One ticket for 32 CZK (1.2€) gives you 90 minutes of scenery that you would otherwise miss. The 22 tram is a favorite, but I also like the 9 and 17.
Go Paneláky! - Prague is not only historical landmarks and spires. To see how thousands of Czechs live, hop on the metro to experience the Communist era style panel housing. This adventure provides a deeper sense of Prague's history and culture. You can take the C metro line to either Opatov or Střížkov for example.
Hidden photo gallery - Prague has a way of hiding galleries, which is great if you like pleasant surprises like me. An example of this is Galerie Fotografic - a small gallery which is fun to find and run by a gallerist who is open and passionate about art.

Long escalator ride - I know, you've been dying to find the longest escalator in Europe. Well, now is your chance to finally experience it. The escalator at Prague's Náměstí míru station is 87 metres long (A metro line). Take a ride up, visit the square outside and reward yourself with a parek v rohliku from the hot dog vendor. Yeah!
Library miracle - call me crazy, but I love libraries. Free books! But, at Prague's central library there is an added bonus. In the entrance hallway stands a sculpture of never ending books. Please come by to experience this fun and mesmerizing attraction. Your kids will love it too.
Local Prague things to do, the Map!