The Original Prague Pub Crawl
The Prague Pub Crawl offers a different way to experience the city. It's about meeting new people, having a few drinks and crawling your way across Old Town through various bars.

It's an opportunity you just won't have at home.

During the Crawl you get an hour of unlimited Czech beer, Moravian wine, vodka and absinthe.
How the Crawl works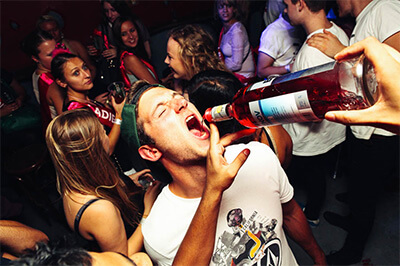 The evening starts at the Crawl's very own bar in Old Town and then proceeds to other bars nearby before finishing the night in a multi-floor music club near Charles Bridge.
The night is much more of a party than a regular bar crawl. It's an experience, not a casual bar hop.
UNLIMITED Czech beer, Moravian wine, Absinthe and Vodka. You show up at either 19:45 or 20:45 and get one hour of any of these beverages. No watered down drinks!
Free shots. In addition to the unlimited drinks, you get a free welcome shot at each bar.
Free admission to 2-3 of the best bars in Prague
VIP entrance to Karlovy Lazne, the largest music club in Central Europe. 5 floors and 5 clubs inside. No lines and no entrance fees (200 CZK value).
The crawl is "guided" from one venue to the next. You, the guide and fellow party-goers.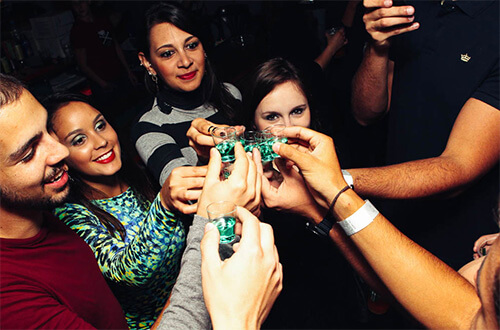 Price: 550 CZK (aprx 20 EUR)
The price of the Prague Pub Crawl includes all taxes. There are no extra charges and no fee to enter the club.
You can order additional drinks at standard bar prices.
You can join the crawl at either 19:45 and 20:45. The first hour includes the free drinks so come on time to make the most of it.
Reserve a Prague Pub Crawl
Space is limited, so make a reservation now. There are 2 easy steps.
Complete the form below and click Continue.
Then, pay a 100 CZK deposit per person on the next page via Paypal.
Then, we will confirm your booking by email.
If you have any questions, please contact us.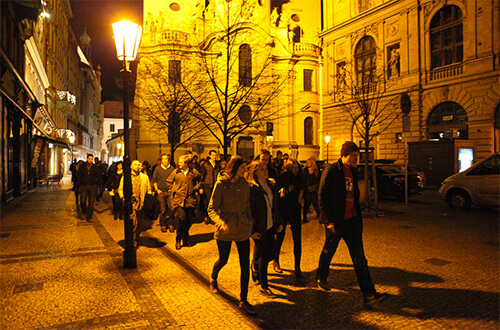 Other details about the crawl...
your reservation cannot be confirmed without the deposit payment
we at My Prague Sights do not operate the crawl directly. We work as a partner to organize guests and take reservations only. You will receive all specific information by email upon booking.

bars are selected on the night of the crawl depending on the group's size and needs
Because of high demand, the crawl does not offer free T-shirts any more. Please tell us in advance if you'd like one. The price for Crawlers is 100 CZK.