Pick Your Prague Sightseeing Tours
These Prague sightseeing tours offer the best ways to see the city. From walking tours to river cruises, there's something here for everyone.
These tours will illustrate the city in friendly and creative ways which is sometimes difficult to do while touring on your own.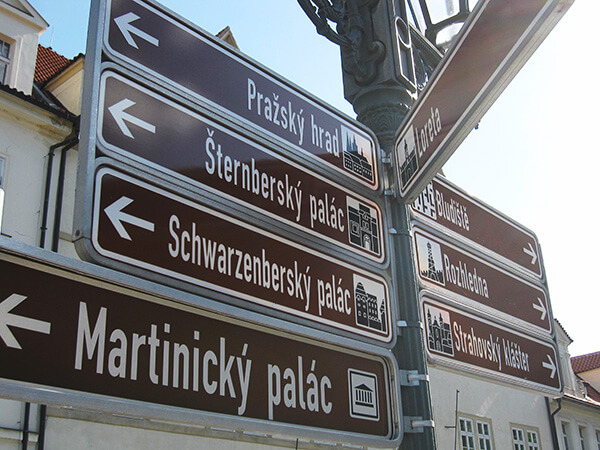 Don't get confused, take a tour!
Walking Tours in Prague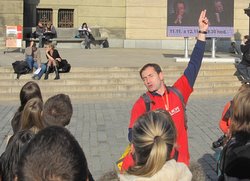 Walking tours offer personal insights
This is the most popular way to tour Prague. Directed by local friendly guides, you will receive a wealth of information regarding Prague's history, architecture and current events.
These tours consist of small groups only, making them more personal and easygoing. We find that this type of tour provides a better experience - more accessibility for everyone.
So, feel free to ask a question or two along the way.
More about these tours in Prague
---
Riding Prague City Tours - less walking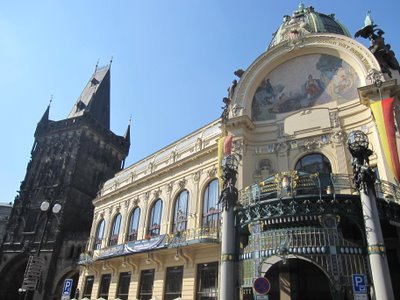 City tours, less walking and more relaxing
We offer a few Prague city tours that are ideal for getting to know the city quickly - without too much walking. These tours include everything from buses to river cruises.
Each tour offers a chance to see the main Prague sights with informative local guides or tour commentaries.
Don't worry about your map, just sit back and enjoy the scenery, breathtaking views and historical background to our city.
---
Incredible Viewing from River Cruises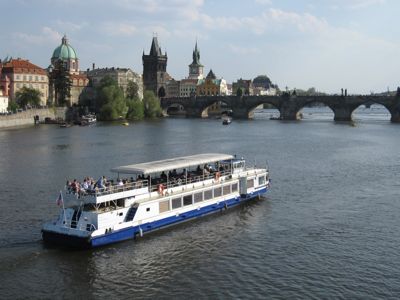 Cruises are fun and surprising
A river cruise is a completely different scene. A casual and peaceful tour of Prague all without the crowds. And, the remarkable views on both sides of the river will impress you, so you really can't go wrong with this idea.
These Prague river cruises range from short 1 hour jaunts to 3 hours of relaxation with dinner and music. Whichever you pick, these cruises are fulfilling and offer a break from typical sightseeing. Of course, please, don't forget your camera. The castle, bridges and spires will wow you.
---
Prague City Bike Tours
Get a bike and beat the cobblestones
Travel Prague by bike to get a fun and new perspective of our little streets and of course the main attractions. We love bike tours because you get off the crowded sidewalks and see sights up close - a perspective you wouldn't otherwise get.
You will cruise past surprising views, Old Town details, little streets... all with the help of a local guide.
There are numerous bike tours to choose from, starting with the classic 2.5 hour tour to the all day event that heads to nearby Karlštejn Castle.
---
Alternative Prague Sightseeing Tours
If you are looking for alternatives to traditional Prague sightseeing tours, consider some of the following ways to see and travel Prague...
Prague Spider Tours - it's a bike for 7 people. Yes, 7 people! It sounds strange, but it's an absolutely fun way to see Old Town and riders sit in a circle so you can share the experience with as you go.
Brewery Tour - visit 3 microbreweries, taste 10 kinds of beer and learn a few brewing techniques and traditions from the Beer Master. And, don't forget the appetisers. Daily from noon, 3.5 hours.
Antique convertibles offer tours all year!
Antique Car Tours - take one of these rumbling antique beauties in convertible style as you pass through Prague's old streets and tour around Old Town and up to the castle.
Horse and Carriage Tours - one of the more popular and romantic ways to casually see Prague. Hop in a carriage on Old Town Square and clack your way through Old Town. We recommend an evening trip as the lights start to come on and Prague takes on a romantic feeling.
The Prague Pub Crawl is an entirely different kind of "tour."  Ok, maybe this shouldn't be filed under Prague sightseeing tours. But you do indeed visit  attractions, they are just of a different kind. You will visit 4 pubs and the largest music club in Central Europe on this all night adventure.
Don't stress, get some tour advice!
Whatever you do, don't stress about all the tour options. Check out our tips to sightseeing Prague style.
If you need help deciding, contact us and we will help sort the details based on your preferences.
Or, visit the official tourism website for Prague for more information on tours and what to see.