Prague Segway Tours

These Prague segway tours are a perfect way to see the sights. Segways are absolutely fun and easy-to-use, making them a fresh alternative to tours and Prague sightseeing.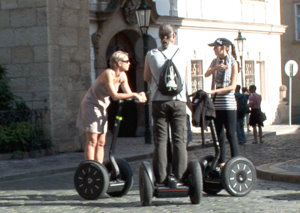 You can choose from individual or small group tours, both with friendly guides taking you through the streets and to lesser known areas.

And, if you're like us, your feet get tired after a lot of walking. So, Prague segway tours are a nice way to give your feet a needed rest.

Best of all, segways are easy to drive. We were shocked at how quickly we caught on.
City Segway Tour

With a comprehensive route, this tour covers all the main sights and a few lesser known spots in a lengthy 3 hours. Space is limited so please book in advance. For private tours click here.

Start Time: 2 pm daily
Duration: 3 Hours
Price: 1490 CZK (about 59 EUR or $85)
Group limit: 7 people
This map of Prague details the route of your tour. Starting in Lesser Town, you will make your way up through the lovely Petrin park past Strahov Monastery and onto the castle.

Along the way you will be treated to gorgeous views of Prague. Segways, of course, make the hill easy to climb.

From the castle the tour goes downhill into the Jewish Quarter and Old Town. There are a variety of great sights along the way especially from the bridge as you cross into Old Town. Wow.
There's much more to the tour, but we need to leave some to your imagination.
Private Prague Segway Tours

There are 3 private segway tours available. You choose the time and your route while the guide will take care of the rest. These options are popular with couples and small groups of friends and family - giving everyone the comfort of seeing Prague together.
Old Town Tour

This is a complete view of the world of Prague's Old Town. The center of it all.

Discover the small streets and the main sights including... Jewish Quarter, Old Town Square, the astronomical Prague clock, Estates Theatre, National Theatre and Kampa Island.

This tour is especially nice considering the two bridges it crosses with splendid views of both Prague Castle and Charles Bridge.
Duration: 2 Hours
Price: 1750 CZK (about 69 EUR or $95)
---
Castle Viewpoint Tour

This tour offers a greater perspective of Prague Castle and the city's compact layout. The views alone of Old Town, the Vltava River and Prague Castle are unforgettable.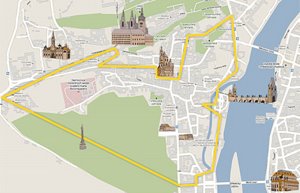 This tour is particularly fun because it breezes through the beautiful Petrin park going past its "Little Eiffel Tower." You'll also note the lovely Loreta and Strahov Monastery among other sights.

Duration: 2 Hours
Price: 1750 CZK (about 69 EUR or $95)
---
Grand City Tour

Of all the Prague Segway tours in the city, this might be the "grandaddy" of them all. It combines the above tours for three hours of sightseeing. Prague will be explored on a level unseen on other tours so bring your camera along and expect lots of fun.

All the typical Prague sights are on tap like Prague Castle, Charles Bridge and Old Town. But, you'll take a peek at other great scenes like Kampa Island, the John Lennon Wall and Prague's famous Dancing House to name a few.

Duration: 3 Hours
Price: 1990 CZK (about 79 EUR or $109)
Who are the guides?

We are happy to cooperate with the Prague Segway company, to offer these tours in Prague. Their guides are very friendly, speak English and honestly want you to have fun.

Prague segway tours, recommended for most anyone!

If you have questions about any of these Prague Segway Tours, please contact us.
Book a Segway Group Tour

Please complete this form to book a City Segway Tour. You will receive an email notification soon after. If you don't see the email, please make sure you check your Spam or Junk folders in your email provider.
Book a Private Segway Tour