Prague Shopping Ideas

What to buy, souvenirs and where to go
Prague shopping is a lot like sightseeing. You can see the standard stuff or look around for a remarkable view of something more local and surprising. It's up to you.
I suggest getting off the beaten path for a special gift or unusual souvenir. The tacky shops that sell fake Czech glass and cheap knockoffs just aren't worth your time.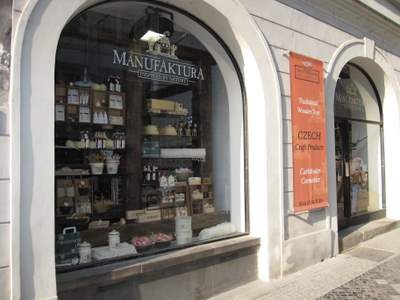 Czech made and traditional goodies at Manufaktura.
There are two ways of looking at Prague's shopping scene - the old and the new. It's not the best description but there's some truth to it. Honestly, Prague shopping culture is a bit divided into two: old-school small European shops and new modern retail stores.
Czechs, for example, love their small shops owned and operated by local people. These are the shops that have traditional Czech items and local fashion that won't be found outside the country - boutique shops, handmade items, local art galleries, etc.
But at the same time, us locals seem to crave the American style shopping malls as well. They are popping up all over as Prague becomes an up-and-coming fashion conscious city. We've got malls and franchise stores like everyone else - H&M anyone?
This page will take a look at both elements of Prague shopping and point you in the direction for both. Hopefully you will find something memorable to take home.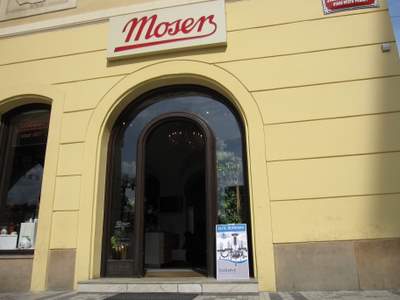 The Moser shop on Old Town Square is first rate.
Traditional and Unique Prague Shops
This is a list of Prague shops that you might take a moment to find. There's an eclectic world here, but these are some of our favorite local shops that might interest you.
Czech Amber and Garnet
These items are popular among locals and tourists alike. There's something altogether fulfilling about these colors whether they are set in earrings or on a necklace. You will find a number of bright shops on Celetna street in Old Town. For more affordable choices, venture away from the historic center.
Czech Glass and Crystal
There is a long history of wonderful crystal and glassworks in this country. You can find a number of galleries and shops offering all kinds of items from vases to chandeliers. These shops are everywhere and it's best to search around Wenceslas Square and Old Town Square.
One of the best places to start is Moser on Na příkopě 12. Moser is a well known manufacturer of high quality glass. You might also stop in at Crystalex shop on Male namesti 1.
Local Fashion and Designers
The Czech Republic is famous for its models with fashion possibly soon to follow. For young design visit Ivan Follova's fashion gallery and shop at Vodickova 36 near Wenceslas Square.
You might also browse the collections of Martina Nevarilova at Krasonhorske 4 in Josefov and the Tatiana Boutique at Dusni 1.
Nature and Beauty
Some of our best Prague shopping is done in one of the many Botanicus shops. These  stores sell all kinds of nature based products from bath salts to handmade paper. Their products use traditional and organic elements and are produced from their own farm in rural Czech Republic. You will find one store just off of Old Town Square at Tyn 3. There's also one at Prague airport.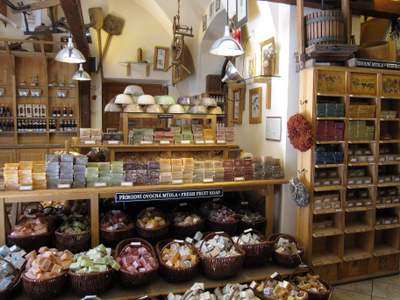 Natural products at Botanicus in Old Town.
Another local store with a popular following is Manufaktura. They offer a line of traditional Czech products ranging from wooden toys and handicrafts to hand painted Easter eggs and aromatic soaps. Find their shop in the old building at Melantrichova 17, a short walk from Old Town Square.
Alternative Ideas
Prague has a whole world of cool shops too. There's just too many to mention. For example, we like scouring the antiques at any number of Antik shops. You'll find a smorgasbord of interesting items from old postcards to paintings. Our favorite shop might actually be the junk shop in Old Town called Bric a Brac. It's a tight little shop filled with all kinds of marvels.
You might also look into one of the many Antikvariat shops throughout the city. These are like antique book shops, but you might find an interesting map, poster or who-knows-what inside.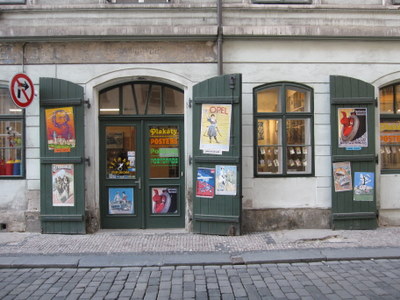 The fun poster shop at Rybna 21, Old Town.
Prague Shopping Malls and More
The mecca of shopping in Prague is undoubtedly around Wenceslas Square. This boulevard-like square is lined with stores ranging from the fashionable H&M to jewelry stores and huge bookshops.
The square offers plenty on the surface, but please explore the arcades and passageways along the square. Inside most arcades you will find tiny shops with a variety of unique items.
At the northern end of the square you will find more shopping opportunities on Na Prikope street. There are a variety of stores here that you will most likely recognize like Benetton, Zara and Leiser shoes.
A short walk from Na Prikope will take you to Prague's historic outdoor market Havelske Triste - shown below. Aside from the reasonable fruit and veggies, you can find a few traditional handicrafts - some tacky and some cute.
In recent years Prague has added a few malls to its repertoire as well. Each mall has multiple floors of fashion and accessories with food courts and cinemas too. Here's a list of the most popular malls in Prague.
Havelske Trziste - a few steps from Wenceslas Square.
Palladium Praha
This new mall is just across from Obecni Dum (Municipal House) and very close to Wenceslas Square. You can also take the B metro here to stop Namesti Republiky.
Address: Nám. Republiky 1078/1, Prague 1, Nove Mesto
Novy Smichov
This mall is a popular place to shop for locals. It's seemingly always busy and has a useful mix of shops including a two floor Tesco and a few cafes and restaurants. The mall calls itself a " 5 Star Shopping Centre."
But, I'm not sure what that really means since it's pretty much the same as all the other malls in Prague. Find it by either tram or the B metro line to stop Andel.
Address: Plzeňská 8, Prague 5, Smichov
Palac Flora
This "palace" is near the metro station Flora just outside the historical center. It's another huge complex that makes Prague shopping quite easy.
Except the items inside may not have the Prague feeling to them as you might hope. Regardless, there's a great IMAX screen upstairs and plenty of fashionable shops here.
Address:Vinohradská 1612/149, Praha 3, Žižkov
Web: www.palacflora.cz
Honestly, shopping malls in Prague are not real exciting ;-)