Bars in Prague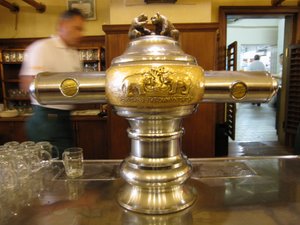 The beer is always flowing at U Medvidku
There is no shortage of bars in Prague - that's for sure. From high end cocktail joints to dark and dirty casino bars, Prague has it.
In fact there are over 10,000 bars in Prague. Maybe that's because the citizens of Czech Republic drink more per head than anywhere else in the world.
But the question is: which bar or pub suits you best?
Here are 15 bars to choose from in three categories. Pick a category to get you started...
Local Authentic Bars
Visitors often overlook these kinds of bars in Prague. Their local atmospheres can be a bit intimidating I admit. But, once you get a seat all you need to know is "Pivo prosim." (Beer please.) 
U Černého Vola (At the Black Bull) - Loretenské Náměstí 1. Malá Strana, Prague 1. Tram: 22 to Pohořelec.
Hidden on the street to leading to Prague Castle, this local spot beer drinkers. Locals come for the beer, not the old school apathetic staff.
ZlatéhoTygra (At the Golden Tiger) - Husova 17, Old Town, Prague 1. Metro: Staroměstská 
This is one of most popular local stops. A good, historical place with excellent location near Charles Bridge and Old Town. 
U Hrocha (At the Hippo) Thunovská 20, Malá Strana, Prague 1. Tram: 12, 20 or 22 to Malostranské naměstí
If you find yourself coming down from Prague Castle with a thirst, then by all means stop here. It's a hidden gem and worth the discomfort you might get being a tourist.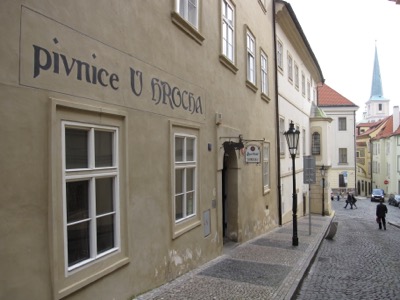 U Hrocha, where few tourists venture
Pivnice U Rudolfina - Address: Křižovnická 10, Old Town, Prague 1. Metro: Staroměstská

If you're still reading this article, congrats! You've found it, this pub is highly recommended
U Kocoura (At the Tomcat) - Nerudova 2, Malá Strana, Prague 1. Tram: 12, 20 or 22 to Malostranské naměstí
Somehow this roughened place still exists despite its touristy location. You might expect it to go the way of a souvenir shop like so many places nearby. Stop in and see why it's still around.
---
Beer and Traditional Czech Food
If you're visiting Prague for a short time and just want a good Czech beer or drink with proper atmosphere then any of these will do. Of course they can be a bit more expensive, but the locations and traditions more than make up for it.
U Fleků Beer Hall, Restaurant and Brewery -  Křemencova 11, New Town, Prague 1. Metro: Národní Třida
Probably the most famous pub in Prague. They serve a strong dark beer among others with lots of history and ambience. There's even a brewery museum on site.
U Medvídků - Na Perštýně, Old Town, Prague  1. Metro: Národní Třida
A list of bars in Prague isn't complete without this old place. It's been found by tourists but still boasts its own beer and decent Czech food. 
U Medvídků Restaurant and bar
U Vejvodů Beer Hall and Restaurant - Jilská, Old Town, Prague 1. Metro: Můstek
Pilsner Urquell served up in a traditional Czech beer hall. Perfectly located near Old Town Square. U Vejvodů is appropriate for all groups large and small.
Kolkovna - V Kolkovně 8, Old Town, Prague 1. Metro: Náměstí Republiky
This venue is maybe best for a drink and a meal. Perfectly located in Old Town and serves unpasteurized Pilsner.
U Pinkasů - Jungmannovo Náměstí, Old Town, Prague 1. Metro: Můstek
Two floors for an authentic drinking and dining experience. It's also perfectly located at the foot of Wenceslas Square.
---
Cocktail Bars in Prague
Prague has exploded with nice cocktail joints in the past few years. Here are 5 recommended places to get you started. The prices are expectedly high-end, but the crowds are cool and the bartenders can be very creative.
Bugsy's - Pařížská 10, Entrance from Kostečná. Old Town, Prague 1. Metro: Staroměstská
This mainstay always has a drink for your mood - from the classics to modern selections. A great place for a cigar and whiskey.
Cloud 9 Sky Bar and Lounge -  Tynská, Old Town, Prague 1. Metro: Náměstí Republiky
This spot is refined with a deep, candlelight mood. It has smaller crowds and is well located for easily switching scenes. It's always a good safe pick.
Barego - V Kolkovně, Malá Strana, Prague 1. Metro: Malostranská - but tram is best - stop Ujezd.
This is an upscale venue for "sophisticated crowds." It's snuggled in the Mandarin Oriental Hotel. Perfect for a date or quiet evening.
Tretter's - V Kolkovně 3, Old Town, Prague 1. Metro: Náměstí Republiky
Tretter's is a great place to "meet", drink and just hang out. You won't be disappointed unless it gets over crowded. And, it's not far from Old Town Square.
---
Bar Talk
A few other interesting notes about bars in Prague...
Some bars offer unpasteurized beerknown as "tankovna pivo." This means the beer doesn't go through the rigors of pasteurization and heating. It's not pumped from barrels but from sacks inside large tanks. So, more flavor for you. On this page, U Rudolfina, U Pinkasu and Kolkovna all serve beer this way.
Most bars in Prague do not have non-smoking areas.

The line between "bar" and "cafe" is a blurry one. A cafe in Prague can easily be considered a bar, or a place to drink and have something to eat.

More and more places are offering "gardens" outside to enjoy a drink.

Children are welcome in most beer halls and bars where food is served.



---
Beer Gardens in Prague
Prague bars are great, but let's not overlook the variety of beer gardens in Prague.
Two favorites are the gardens at Letna park and Reigrovy Sady.
The beer garden at Letna sits above the city with awesome views and lots of wooden tables. It's not far from the giant metronome that swings above the river, just north of Charles Bridge.
The garden at Reigrovy Sady is a local hangout. It's worth a visit just to see another part of Prague.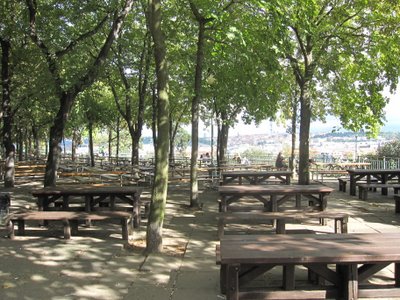 Letna beer garden, view included!
Return to Prague Nightlife from Bars in Prague