City Breaks to Prague

Daily Tour Ideas for Short Breaks to Prague
Plan your city breaks to Prague before you get here. After all, who wants to spend time reading a guidebook after arriving?
These daily itineraries will jump-start your short break in the right direction.

Jan Hus staring across Old Town Square, wondering, How can anyone see Prague in just one day!
Pre-Sightseeing Advice

Before getting started it's helpful to keep a few things in mind.
Prague is a compact city. It allows you to walk everywhere or use public transportation.
Prague is best seen in 3 or 4 days.
For argument's sake, let's say Prague has 5 main sightseeing areas - Prague Castle - Charles Bridge - Old Town - Jewish Quarter - Wenceslas Square
Divide your time into small parts. Start with dedicating half-day chunks to different attractions or areas. For example, give Prague Castle a half a day or so. Or, see Old Town together with Charles Bridge in half a day.
City Breaks to Prague in 1 Day

Prague in one day is more of a mad dash. We don't recommend it, but it's possible. Strap on your shoes and let's go!
• Prague Castle - catch the 22 tram to stop Pražský Hrad and enter the castle grounds. See St. Vitus Cathedral for free. Wonder around a bit and take pictures. Check out the views near the top of either steps to the castle.
• Nerudova Street - walk down this beautiful street to the bottom and visit St. Nicholas Church.
• Charles Bridge - cross through Malostranske namesti and head to Charles Bridge. Cross the bridge and admire the views.
• Old Town - walk a nearly straight path from the bridge to Old Town Square. Walk around the square, see the astronomical clock and climb the Old Town Hall tower. The best views of Prague are here.
• Jewish Quarter (Josefov) - from the square walk to the old Jewish cemetery. Get a ticket and walk through then visit a synagogue/museum if you have time. You can spend all day here, but time is ticking.
• Wenceslas Square - from the Jewish Quarter either walk back through Old Town or jump on the metro at Staroměstska and get off at Muzeum.
That's one day in a nutshell. It includes all the important attractions and keeps things fairly linear. Questions? Contact us.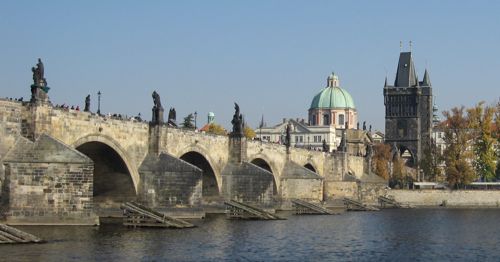 Charles Bridge, connecting Mala Strana and Old Town
City Breaks to Prague in 2 Days

For city breaks to Prague in just two days, it's best to divide your days into 4 parts.
Here's an idea... combine Prague Castle and the Jewish Quarter into the first day. You can also cross Charles Bridge to connect the two areas in one day.
And, then discover Old Town and Wenceslas Square in the second day.
Day 1

• Prague Castle (half day) - catch the 22 tram to Pražský Hrad and enter the castle grounds. Get a short tour ticket and see more of the castle. Afterwards head behind the cathedral and to the top of the castle steps. Take in the view! Walk down the  steps and at the bottom turn and walk passed Malostranská metro and continue straight until you come to Charles Bridge. You can peek Wallenstein Garden along the way if you'd like.
• Charles Bridge - at the bridge you can grab a boat ride for 50 minutes (Prague Venice) or just walk across the bridge and go into Old Town. On the Old Town side of the bridge you might consider taking in the exhibition views at the top of the tower - grand views here.<
• Jewish Quarter (half day) - after crossing the bridge turn left and avoid the crowds on your way to the Jewish Quarter. Make your way to the old Jewish cemetery and spend some time there and at a synagogue and museum if you have time. The museums here can be very time consuming, so you may want to only visit the cemetery and move on.
Day 2

• Wenceslas Square - start your second day at the top of this long boulevard. You can take the metro to the Muzeum station just underneath the impressive National Museum. From the museum walk down the square and take in some shopping if that's your thing.
• Obecní Dum - At the bottom of Wenceslas Square turn right and head toward Náměstí Republiky. At this square you can see the wonderful decor of Obecní Dum (Municipal House). You can take an interesting tour of this very cool building, but this depends on your time and perferences.
• Royal Way - from Obecní Dum you'll follow the one-time coronation route of kings. Start by walking past the gothic tower next to Obecní Dum and follow the path straight toward Old Town Square. Along the way there are several shops, cafes and restaurant diversions.
• St. Tyn Church - once you reach the square bear to the right and visit the incredible St. Tyn Church. You'll have to find the entrance hidden next to the outdoor cafe there.
• Old Town Square - Take in the full effect of the square by walking around checking out the Jan Hus statue, seeing St. Nicholas Church and even taking in an afternoon concert here if time permits. You can just walk up and get tickets.
• Astronomical Clock - plan your time so that you can catch a glimpse of the clock marking the hour. Afterwards, climb the tower itself for what might be the best view in Prague. Consider climbing the tower as a crowning reward for all city breaks to Prague. Highly recommended!

City Breaks to Prague in 3 Days

This is the best option for a short break to Prague. It requires less innovation and it's a lot less stressful.
This itinerary is similar to the 2-day option, but allows you time to explore the smaller side of Prague - the details that will sit with you for years to come.
Day 1

• Malá Strana - catch the 22 tram to Pohořelec and walk up to Strahov Monastery. We suggest visiting the monastery or at least Strahov Library - it's a beautiful scene inside. After the monastery admire the view over Prague and then walk to Prague Castle. Get a short tour ticket unless you want to spend all day here.
Afterwards exit the main gate past the guards into Hradčanské naměstí. Turn to the left and take in another view over the city and immediate area. Continue down the hill and bear to the left onto Nerudova Street. This is one of Prague's most charming and famous streets.
At the bottom cross the parking lot and visit St. Nicholas Church. From here, walk down around the church to Karmelitská and turn right. Follow the street about 200m to the Church of the Infant of Prague. Stop here for a few minutes and then head back out and continue a little ways to the funicular.
Take the funicular up to the top of Petřín where you'll find a House of Mirrors and Petrin Tower. Climb the tower for incredible views or just stroll around in the park - have a beer, etc.
• Charles Bridge - take the funicular back down the hill and walk back to Charles Bridge or take the tram 1 stop. Your day will end at the bridge so either stroll across the bridge or take a short boat cruise along the river.
Day 2

Instead of repeating the same text, click here to follow Day 2 from above.

Day 3

• Jewish Quarter (half day) - Visit much of the Jewish Quarter with your third day. There are numerous synagogues and small museums in this little area just off of Old Town Square. If you choose not to spend time here, at least visit the cemetery and corresponding museum.
• Up to you! From here your city breaks to Prague are entirely up to you ;-)
We suggest doing something less ordinary with all city breaks to Prague -- like renting a paddle boat for an hour or jumping on the tram to visit Vyšehrad Castle. It's a nice place to avoid tourists, stroll around and take in another great view.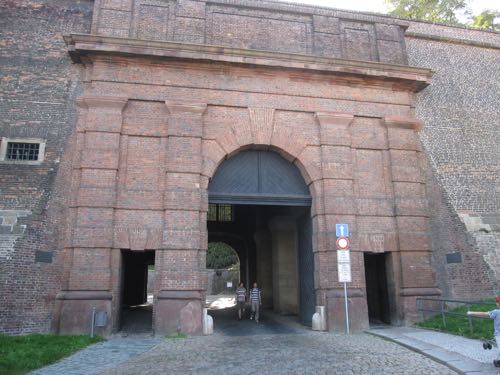 Have some spare time? Go to Vysehrad for something different.
 Need help planning city breaks to Prague?

We are happy to answer your questions about city breaks to Prague. Just contact us.
Of course, the longer any city break would be, the better. We've spoken to lots of people over the years who are disappointed they don't have more time. There's just so much to see and do.
If your time is really tight, then you might consider skipping a few places if you don't have a choice. But any visit, should include Prague castle, Charles Bridge and Old Town. These are the heart and soul of Prague.
Back from City Breaks in Pague to Prague Tourism