Prague Events September 2017

Things to do, Music to hear and food to eat
Welcome to the Prague events September edition! This month is packed with good music, food festivals and things to do.
Here are a few highlights that will enhance your visit and get you out of the tourist comfort zone. How about a wine tasting? Or, a Burgerfest anyone?
Read on for more ideas and things to do in September. 
Weather in September? It can be fantastic!
Vintage Wine Festival at Prague Castle
Dates: 16 - 17 September, 11:00 - 19:00
This annual wine celebration is held in the Royal Gardens of the castle. It's free to enter and makes for a fun detour when visiting the castle. You will be treated to various wine tastings, traditional music and food. And don't miss trying the Moravian burčák. This partially fermented wine/juice is a proud Czech tradition every late summer. Come and try something different!
Free Concerts at Wallenstein Garden
Dates: every Thursday in September, 17:00
This garden should already be on your must-see list. So why not visit and hear some music too? Hey, it's free! Concerts are held on the terrace that is adjacent to the Czech Senate. It's open air seating, so just come and grab a bench. It should make for a lovely late afternoon in Prague. Read more about the garden.
Location: Wallenstein Garden, Letenská, Malá Strana. Metro: Malostranská
Prague Events September Highlight:
Burgerfest
Dates: 9-10 September, 10:00 to 20:00
Burgerfest is much more than burgers! This is a weekend celebration with music, grilling, BBQ, contests and more. Online tickets are just 100 CZK for the two day event and it's sponsored by the US Embassy of Prague along with the BBQ PitBoys. More info
Location: Exhibition Grounds of Holešovice. Tram 12, 17 or 24 to Vystaviště Holešovice
Sculpture Line
Dates: now until 30 September
A variety of sculptures dot the city this summer making Prague events September a unique time. All are in open, public spaces inviting us to take a different view of some ordinary places. Many sculptures are found in lesser known parts of the city, so get out and see something off the beaten path. More details and a map of sculptures
Dvořák International Music Festival
Dates: 3 - 23 September
Antonín Dvořák is one of Czech Republic's most beloved composers. His work weaves through Czech culture, touching everyone. And, this popular music festival is here to celebrate his work as well as some of his contemporaries. Throughout the month, the festival brings acclaimed musicians to Prague from from all over the world. Each will be on hand to explore Dvorak's music and influences. If you are considering a concert in Prague, this should be on the top of your list. Visit the festival website for more details
Location: Rudolfinum Concert Hall, Palackého 740/1, Old Town. Metro: Staroměstská
Food Festivals on the Riverfront
Prague events September is full of the popular Náplavka riverfront. It's become a home to a number of festivals and markets from spring to autumn. These delicious Prague events in September will satisfy your tastebuds and get you to one of the city's unique destinations.
Please note, both sides of the river share the name Náplavka - so please check which side of the river to visit.
Asia Food Fest

- 

9 September, 10:00 to 20:00, 50 CZK per adult, children under 12 are free, Location: Smíchovská náplavka 
Veggie Fest - 10 September, 10:00 to 21:00, FREE. Location: Náplavka Rašínovo nábřeží.
Food Truck Show - 23 September, 10:00 to 20:00, Smíchovská náplavka
Chilli Fest - 30 September, 10:00 to 20:00, Smíchovská náplavka
Krištof Kintera - Galerie Rudolfinum
Dates: 6 September - 26 November
Prague's famous concert venue also has a wonderful gallery. And this month it celebrates its 100th exhibition with FREE admission to Nervous Trees, by Krištof Kintera. One of Czech Republic's most interesting contemporary artists, Kintera's work includes a collection of sculptures, interactive installations and more.
I visited Kintera's last major show in Prague a few years ago and it had a lasting impression on me. So, I'm excited to see what he has in store for us now. Even if you stop by for a few minutes, the Galerie Rudolfinum and its newly opened cafe is a work of art itself.
Location: Galerie Rudolfinum, Alšovo nábřeží 12, Old Town. Metro: Staroměstská
Over My Eyes - Stories of Iraq
Dates: 8 September 2017 - 8 January 2018
Opening this month at DOX Centre for Contemporary Art is a thoughtful exhibition of photographs from Iraq. But these aren't the standard war and strive images we see in the news. The photographs were taken by local Iraqis with a unique perspective of daily life, behind the scenes from what we often see. 
Visiting DOX is also a great way to get out of the tourist zone. It's in Holešovice which is becoming an arty, up-and-coming neighborhood.
Address: Poupetova 793/1, Holešovice, Prague 7. Open daily except Tuesdays.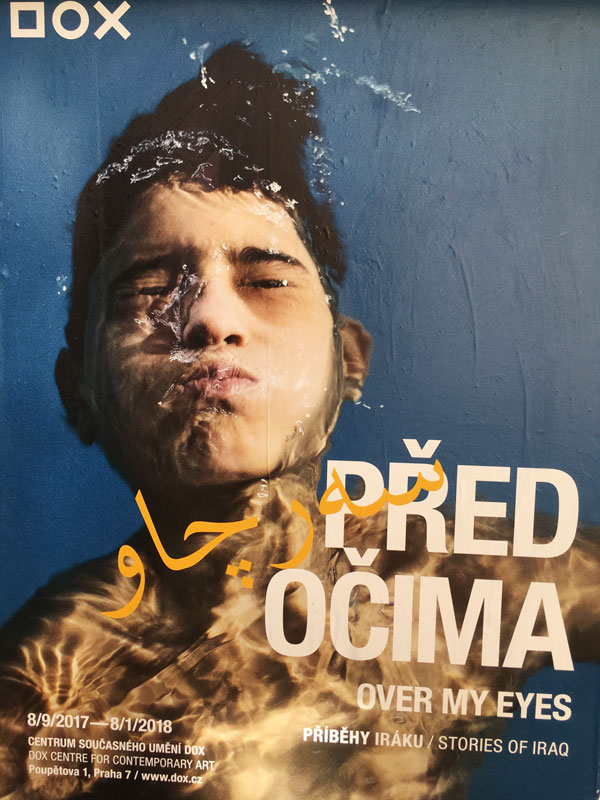 Laver Cup - Tennis Tournament
Dates: 22 - 24 September
The inaugural Laver Cup will be held in Prague with top players from the men's ranks. The exhibition tournament pits former star players Bjorn Borg and John McEnroe as captains for their respective teams, Europe vs The World.
Players scheduled to face off include Rafael Nadal, Roger Federer, John Isner and the Czech Tomáš Berdych. (Final teams will be announced on September 11.) For tickets visit the Laver Cup website
Location: O2 Arena, Českomoravská 2345/17, 190 00 Praha 9. Metro: Českomoravská