Czech Recipes

These traditional Czech recipes are a few of our family's favorites. You will find these and others in many Prague restaurants.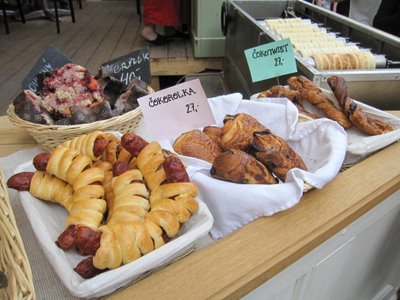 They range from standard meaty dishes to sweet Czech desserts.
If you're new to Czech cuisine, don't worry. These are fairly easy and you can find most ingredients for these recipes in your local store.
These recipes use standard American measurements so this conversion table might help.
Bon appetit! Or, as Czechs say, Dobrou chuť !

---
Czech National Dish

Most Czech recipes call for some kind of meat. Pork, poultry, beef and game are all popular mainstays. Sorry vegetarians.
When in Prague, it's almost mandatory to try the country's national dish: roast pork with dumplings and sauerkraut. You will see this advertised at many restaurants in Prague. It goes by the local name: vepřo, knedlo, zelo.
Most Czech recipes for this dish are fairly similar so keep it simple and you can't go wrong.
Roast Pork (Vepřová Pečene)
Ingredients:
1 tbs vegetable oil
1 tbs prepared mustard
2 tbs caraway seeds (We Czechs love the caraway seeds.)
1 tbs garlic powder - more if you'd like!
1 tbs salt
1 tsp ground black pepper
2 lbs pork roast
1 medium onions, chopped
1/2 cup beer (or water)
1 tbs cornstarch
2 tbs butter
Directions:
Mix the vegetable oil, mustard, caraway seeds, garlic powder, salt, and pepper and rub over the pork roast. If you have time, let it sit about 45 minutes.
Preheat oven to 325 F (165 C). Lay the onions a large roasting pan. Pour in the beer. Put the roast on top of the onions in the pan. Cover pan with foil. You can even add a few cloves of garlic if you'd like. Bake at 325 F (165 C) and baste with the natural juices frequently. Turn meat over while baking (1 to 1 1/2 hours).
Save the juices from the pan and add the cornstarch and butter. Throw in a saucepan and simmer shortly till it thickens. You can pour this over your pork and dumplings (see next recipe).

One note: Czech recipes can be heavy on the salt. If you
are a low salt person or uncertain, cut back while cooking
and add later.
Yeast Dumplings (Houskové Knedlíky)
If you visit Prague, you must have dumplings while here -
they are a pillar of Czech food. Roast pork and other meat dishes are often served with either yeast or potato dumplings. And, of course you can also find fruit dumplings, but that's another story.
Ingredients:
1/2 package dry yeast
2 cups warm water
1 teaspoon sugar
2 tablespoon salt
4 cups instant flour
1 egg
1 cubed bread roll

Directions:

Dissolve yeast in lukewarm water with sugar. In a big bowl combine flour, salt, egg and bread roll. After yeast rises, add to mixture and knead for 10 minutes or so. Form 4 rolls on a sheet with flour. Cover and let rise. Boil salted water and gently place in water - maybe one or two at a time.
Cover and cook about 20 minutes. Test for doneness with toothpick. It should be light and puffy. Remove from water and slice.
Simple Sauerkraut (Zeli)
Ingredients:
4 slices bacon, sliced into small strips
1 lb sauerkraut - with juice
1 medium chopped onion
salt and pepper to taste
1 tsp caraway seeds
2 tsp cold water
1 tsp cornstarch
sugar and vinegar to taste

Directions:
Fry bacon in a small pan over until evenly browned. Set aside. Fry chopped onion in butter until translucent. Add sauerkraut to saucepan, cook until tender. Add bacon, and season with salt, pepper and caraway seeds.
Stir together the cornstarch and water; mix into the sauerkraut, and simmer for a few minutes before removing from the heat. Add sugar and vinegar to taste.
Czech Recipes for 2 Popular Dishes
These two Czech recipes are popular lunch dishes in Prague. Of course, you'll need a side dish as well. Boiled potatoes will work fine.
Pork Schnitzel (Vepřový Řízek)
Ingredients:

4 boneless pork sirloin chops or pork cutlets, boned (or chicken)
pinch of salt
1/2 cup flour for dredging
2 eggs, beat lightly
1/2 cup bread crumbs
1/4 cup oil for frying
lemon, quartered
Directions:
Pound each chop about 1/4" (.6 cm) thick with a kitchen mallet. Sprinkle both sides of the meat with a little salt. Then dredge the meat first in flour.
Then dip into egg and then in bread crumbs so it's coated completely. Heat oil in large fry pan to a high heat and cook schnitzels one or two at a time (don't crowd) approximately 5 minutes until golden on first side. [Before flipping peek underneath to verify brownness.
You only want to turn each one once to avoid drying out meat. Flip and fry second side about 5 minutes more until meat is fully cooked. Place on absorbent paper to drain before serving. Serve with lemon wedges. A squeeze of lemon juice adds a nice accent.
Goulash (Guláš)
Ingredients:
1 medium onion chopped
2 lbs cubed beef or pork
2 tbs oil
pinch salt
1/8 tsp ground black pepper
1/8 tsp marjoram
1 1/2 cups hot water or beer
1 tsp vinegar
4 tbs tomato paste
1/4 cup flour
2 tomatoes, chopped
1 green pepper, chopped

Directions:
Heat oil in stew pot then add chopped onion. You can add a few caraway seeds before onions are done if you'd like. Stir onions done - golden. Add cubed meat and sprinkle with salt and pepper.
Stir in tomato paste, vinegar water (or beer). Mix thoroughly and simmer about 45 minutes or until tender. Add flour to thicken and stir in salt, marjoram and even some garlic if you'd like. Simmer 5 or so more minutes.
Lastly add chopped tomatoes and green pepper stirring in well but don't cook any longer.
Czech Desserts

We Czechs love our desserts. And, there's a special place in our hearts for taking a break with coffee and something sweet.
Pancakes (Palačinky)
Ingredients:

2 eggs
pinch of salt
3 tbs sugar
2 cups milk
2 cups flour
1/4 cup butter for pan
jam, fresh fruit or even Nutella for spreading

Directions:

Beat together eggs, salt, sugar milk, add flour until smooth. Heat a non-stick frying pan and brush with butter. Pour a think layer of batter into the pan - spreading it to cover the base of the pan. The pancakes should be very thin. Thinner the better.
Fry on both sides until golden brown. Spread with filling of your choice and roll into a tube. Sprinkle with powered sugar or add whipped cream a cherry and be creative.
Yeast Cakes (Kolače)
Ingredients:

6 cups flour
1/2 cup sugar
3/4 cup butter
3 egg yolks
lemon peel from 1/2 lemon
1 tsp salt
16 oz milk
1 package dry yeast
1/4 cup warm milk
your choice of filling: jam, cottage cheese or poppy seeds

Additional Ingredients:

1/4 cup sugar
1/4 cup flour
2 tbs butter

Directions:

Dissolve yeast in 1/4 cup of lukewarm milk with 2 tsp of sugar and let stand until it rises. In a large mixing bowl beat butter, sugar, and eggs until smooth. Then add grated lemon peel and lukewarm milk.
After yeast has risen, add to first mixture and add flour. Mix well, kneading into smooth dough. Cover and place near heat to rise until it doubles. After dough rises, cut it into small pieces, roll into small balls and place on a well greased pan about 2 inches apart.
Place near heat and let rise again. While the dough is rising make the crumbly topping. Cut butter into flour until small crumbs form then add in sugar. Upon rising, make dents in the center and brush lightly with well beaten egg.
Fill with your choice of poppy seeds, cottage cheese or any kind of jam. Sprinkle top with crumbs and bake in 400 F oven for 15 - 20 minutes.
More Czech Recipes
We have more family Czech recipes don't worry. We just couldn't fit them all on one page. I'm in the process of cultivating more for you. Check back later! Do you have a few Czech recipes in your family? Feel free
to share them with us and other readers.
---
Related Articles
| | |
| --- | --- |
| Czech food - an overview of local meal traditions and to expect on your visit. | Czech cuisine -  typical ingredients and traditional cooking styles |