Mathew 1 Apartment

Two Bedroom Vacation Rental
The Mathew 1 Apartment is a unique residential apartment rental. It offers the close proximity of tourist attractions and the experience of living locally. 
The apartment has two bedrooms, living room, bathroom, WC and spacious hallway for your things.

The apartment's unique layout offers guests the chance either use the rooms as independent bedrooms, or open the connecting doors to give the space more of an airy quality.

Either way, the apartment is rather large at 115 m2.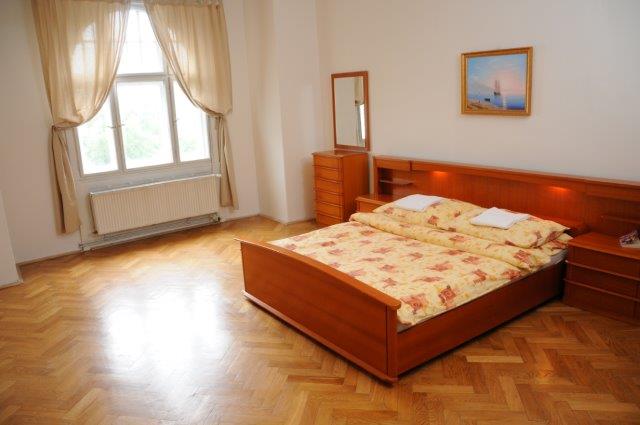 The Mathew 1 Apartment has been furnished with comfortable beds and has all the amenities of home. You won't need to bring anything.
We can arrange double or single beds to accommodate any group's needs.

The apartment is on the fourth floor of a quiet and clean building in central Prague. The building has an elevator and a lovely little park just across the street.
You can walk to some attractions from here or just take the nearby tram. It only takes about 5-10 minutes to get to
Charles Bridge
and
Old Town
.
---
Mathew 1 Apartment Details

In the apartment...


Wi Fi
Satellite TV
Washing machine
Iron, ironing board
Hair dryer
Free parking on street
4th floor with elevator

Location

Public transport

Metro station Andel
Trams: 6, 9, 12 and 20
---
The large kitchen is ideal for self-catering. It features all the common items of home, including coffee maker, kettle and toaster. Of course, it has all the cooking and eating supplies as well as fridge, freezer, stove and oven.
And, if you need something else, just call your friendly caretakers.

---
Apartment Rates

Winter

Nov - Mar: 79 EUR

Summer

April - Oct: 105 EUR


Holidays
All rates are for 1 or 2 persons.

Each extra person is 10 EUR/night.

Discounts apply to longer stays.

Rates include taxes and cleaning fees.

No extra charges or hidden fees.
The apartment includes all towels and bed linens.
Wi Fi is free in the apartment.
The apartment is available for daily, weekly and monthly

stays.

2 night minimum stay

---
Left: the bathroom has a deep tub and shower head for standing.
Right: the apartment has a huge hallway that connects each room independently.

Location
This neighborhood is much more of a local place. So, you won't run into other tourists crowding the sidewalks. Just basic life in Prague.
The building is rather quiet, but the immediate area has lots to see, do and explore. We like the numerous cafes and casual dining spots nearby. Just across the street is a cafe with good and inexpensive food. You can even get take-out and bring it back to the apartment.
You'll also find a wine cellar bar that is a bit hidden and adjacent to the park. Stop in for a real experience if you like wine - or just to hang out with locals.
Of course, this area is well known for its nearby shopping mall called Novy Smichov. Walk through for an idea of fashion and food in Prague. There is a large Tesco here as well with grocery store on one floor and department store goods on the second.
Home > Apts in Prague > Mathew 1 apartment