Mathew 2 Apartment

The Mathew 2 Apartment is an ideal budget apartment for groups and families. It offers lots of private space, with room for 6 persons. It's also located in a quiet residential building - a local area away from tourist crowds. 
The Mathew 2 proves that you don't have to pay hotel prices to have all the comforts of home. Relax with its large rooms, free Wi Fi and a full kitchen. There is even a little balcony to enjoy.

The apartment gives you the ability to cook for yourself or save money by visiting local restaurants nearby - because the apartment is just outside the tourist zone. But, at the same time, can either walk to most sights from here or hop on a tram for a short ride.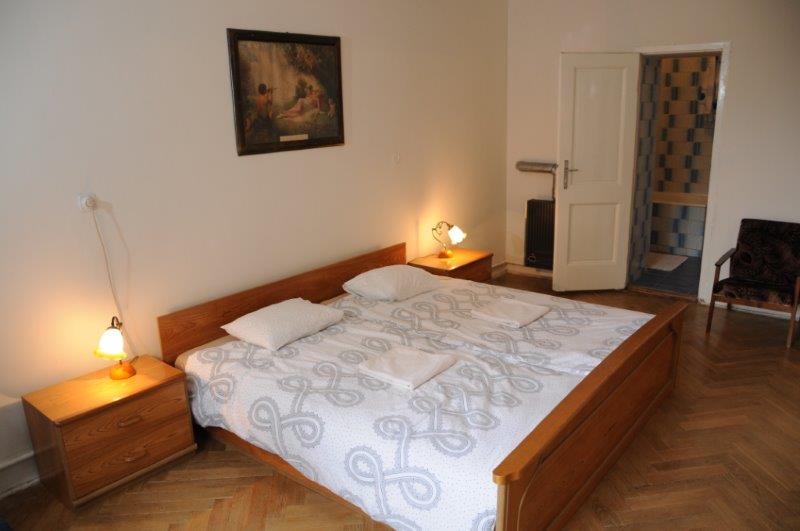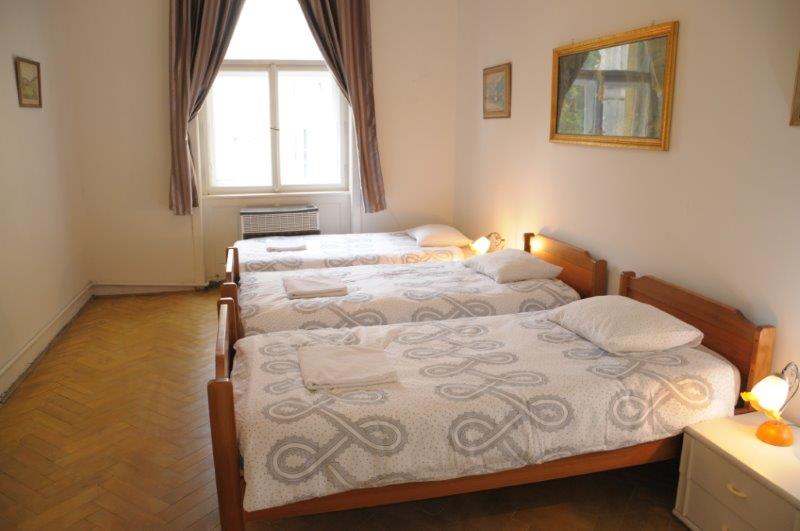 The apartment sleeps up to 6 persons easily. It has two independent bedrooms that can be arranged with single or double beds, a large living room for relaxing and the possibility of extra beds.
We can arrange beds in a variety of ways. Even 6 singles if necessary. Just ask us, and we'll do our best to make you comfortable.

---
Mathew 2 Apartment Details

Apartment Details...


Wi Fi
Satellite TV
Balcony

Washing machine
Iron, ironing board
Hair dryer
Free parking on street
2nd floor, with elevator

Location

Public transport

Metro station: Anděl

Trams stop: Arbesovo namesti. Trams: 6, 9, 12, 15, 20
---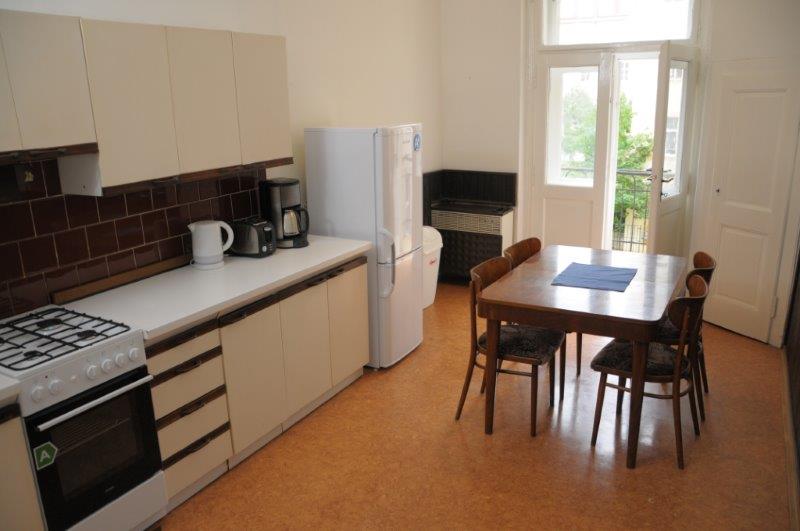 The kitchen includes all the things you need to cook and eat... stove, oven, fridge, utensils, pots and pans, etc. If you need something else, just let us know.

Mathew 2 Apartment Rates

Winter

Nov - Mar: 79 eur


Summer

April - Oct: 99 eur


Holidays
All rates are for 1 or 2 persons.

Each extra person is 10 EUR/night.

Discounts apply to longer stays.

Rates include taxes and cleaning fees.

No extra charges or hidden fees.
The apartment includes all towels and bed linens.
Wi Fi is free in the apartment.
The apartment is available for daily, weekly and monthly

stays.

2 night minimum stay

Left: the living room is quite large with enough room for an extra bed.
Right: entrance hallway with living room in back and bathroom to right.

Location
The Mathew 2 apartment is located just outside the historical center of Prague. You can still walk to many of the sights, but you might also use public transportation which stops a minute's walk from the apartment.

We like walking from here through the side streets to Charles Bridge or to Legii Bridge which offers spectacular views of the Castle and Old Town. Just over this bridge are the little streets of Old Town, the National Theatre and lots more.

There are also other benefits to staying in this area that might surprise you. The local feel and color of the area can't be matched in the more popular tourist areas. So don't expect to see the crowds of tourists like in Old Town. Instead, outside the apartment you will have more local opportunities for shopping, dining and things to do.

Address: Matoušova 6, Smichov, Prague 5.
In the Neighborhood

Aside from going out sightseeing, you'll find that this is a popular neighborhood to visit. Locally this area is sometimes referred to as Smíchov or Anděl.

The Andel metro station is a five minute walk from here and is postioned just outside the ever popular Novy Smichov shopping center. So, if you're curious about what Czechs are buying or eating, then walk through this lively place. You might even pick up a gift for someone that you wouldn't find among the tourists in other parts of Prague.

Aside from the shopping center there are plenty of very good restaurants, cafes, bars and even a tea room close to the Mathew 2 apartment. There are even a selection of cinemas, parks and playgrounds nearby too.
And, just across the street is a local library, supermarket, cafe with take away and many other local only places.

Among other sights and attractions nearby we love to walk to the Hunger Wall at Petrin park. Explore this park for its hidden gardens, impressive tower, House of Mirrors, wooded paths and many excellent views of the city.

If you are traveling with small children, then you'll be relieved to find one of the biggest outdoor play areas is just a short walk from here. It's actually an island playground right on the Vltava River. The children might also enjoy watching the boats pass through the lochs just opposite of the play area.
Well, we could go on and on about the area and its details, but we'll leave something to your imagination.

Please feel free to contact us about the Mathew 2 Apartment or anything else that might come up as you plan your trip to Prague. We would be delighted to help you make the best decision.
---
Home > Apartments in Prague > Mathew 2
---
Return from Mathew 2 apartment to Apartments in Prague

Return from Mathew 2 apartment to My Prague Sights