Prague Apartments for Rent

Prague apartments are great alternatives to hotels. Apartments are cheaper, more independent and simply offer lots that hotels cannot.
Now, don't get us wrong. We love our share of hotels, but we understand the importance of what apartments can offer. So, as former hotel mangers, we think it's worth considering the variety of cheap apartments around.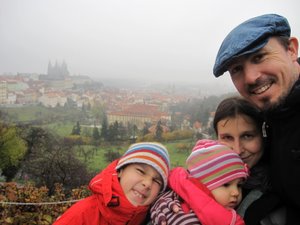 This page takes a closer look at the benefits to renting Prague apartments. We've come up with 5 advantages that apartments provide over hotels. And, check out the price comparison below. It's definitely food for thought!
5 Reasons to Consider Prague Apartments

From our personal work and experience, we think these 5 points make it worth considering an apartment.
Save Money

We all love this one!
Renting an apartment in Prague saves money in a number of ways. Simply compare rates with hotels and you'll find a significant difference.

The savings add up even more when you are traveling with a family or small group.  Imagine finding hotel rooms for 4 or 6 people? The price would be outrageous compared to one apartment rental.
You can save even more money by contacting apartment owners and managers directly. They often have the chance to be flexible with pricing. You can even negotiate a price according to your budget. Start your search with these apartments in Prague.
Stay Local

Prague apartments offer a local experience that many hotels can never provide. Hotels have to stick to the status quo and the standard arrangement. It goes like this... "double room with en suite bathroom - bed, table, chair and nightstand with lamp.
Meanwhile, each apartment is different and will give you the feeling of living with the locals. After all, do you want to experience Czech culture from a local frame of mind or from a hotel window?
Lots of Space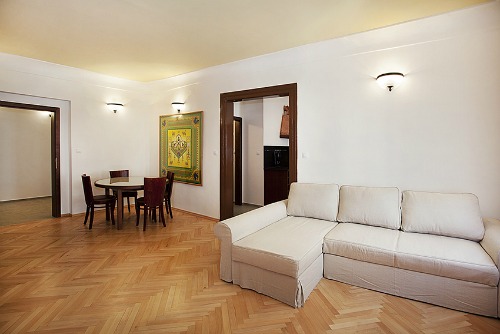 So, you've been out walking all day and your feet are tired. You can come back to comfy sofa in the living room of the apartment or to the table and chair in the hotel - it's up to you.
Generally Prague apartments are bigger than a hotel room or even suite. Many apartments include a bedroom, kitchen and separate living room. By the way, you'll never find an apartment advertised as standard like so many hotel rooms. Who wants anything standard anyway?
Service
You might think this is where hotels always win. But, if you look closely you will find many apartments that offer the same services as hotels - and sometimes more.
Consider the view from an owner or manager. They know that you are giving up the standard stuff from the hotel. So, they are eager to please guests with a unique style of hospitality. Need something in the fridge upon arrival? Done. Need tips on where to eat? Done.
Remember, owners are motivated because you are staying in their extended home. They want you to be comfortable and at ease - not just because it's their business. That's a far cry from the attitude of a hotel receptionist.
Location
It's simple. Hotel locations are limited because they are physical size. Apartments on the other hand, can be located almost anywhere throughout the city.
From Old Town Square to the small streets of Malá Strana, you can find romantic and cheap apartments throughout Prague.
So, you can be walking distance to most sights and the metro system.
Back from Prague Apartments to Prague Accommodation