Which Prague Hostel is Best?

Let the debate begin...
Picking your Prague hostel won't be easy! But that's a good thing.

The more options the better, right?
Thankfully we aren't here to list all their merits. That would be boring.
Let's just look at a few hostels in Prague that are worth considering. A short recommended list to get you rolling.
Each hostel listed here balances three things pretty well: location, rates and nightlife. And they all have decent ratings by previous guests.
Sir Toby's Hostel Prague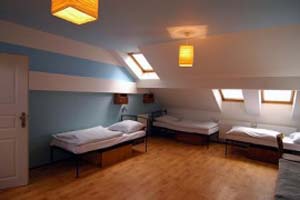 Everyone seems to rave about Sir Toby's - and rightly so. This cool, very authentic Prague hostel is new, warm and friendly. They offer a huge variety of rooms from dorm style with bunk beds to large private rooms perfect for a group of friends traveling together.
Check prices and read reviews.
Sir Toby's offers tons of atmosphere and extras too. There's a groovy pub in the cellar, outdoor terrace, all-you-can-eat breakfast (for a small fee) and live bands from time to time - AND - free WiFi, laundry services, summer BBQ's and much more.
Sir Tobys is also a perfect backpacker Prague hostel. It's close to the train stations and there are easy tram connections to the metro and city center.
Address: Dělnická 24, Prague 7, Holešovice. Get there by trams 1, 3, 5, 12 and 25 and Metro station Nádraží Holešovice.
---
Miss Sophie's Prague Hostel

Miss Sophie's hostel proves that hostels aren't just for backpackers any more. More of a hotel, the stylish rooms and atmosphere are a great bang for your buck.
Choose from a variety of rooms - all which are comfortable. They have shared rooms for 3 - 5 guests or larger bunk bed rooms for 8 people. Or, splurge and get yourself a private room for cheap.
Extras in the hostel include: brick cellar lounge, terrace, 24 hour reception and internet access. And, the building is no smoking.
If you want old architecture and a central footing, you might try something else. Miss Sophie's is in a bustling commercial part of town. But, metro and tram stops are a stone's throw away.
Address: Melounova 3, Prague 2, Nove Mesto. Get there by metro - I.P. Pavlova and trams: 4, 6, 10, 16 and 22.
Rates and reviews for Miss Sophie's

Czech Inn Hostel

Czech Inn pushes the boundaries for what "hostel" normally means. This stylish, boutique hostel is more of a hip hotel than hostel. But, don't worry, the "hostel" prices are still here.
They offer a variety of dorm style rooms and smaller private rooms and even a few apartments with nice views at the top.
The comfort here makes it hard to get out and see the city. Their big cafe with 7 beers on tap, free WiFi and all-you-can-eat breakfast are perfect for just hanging out. And, the friendly staff will help you with any travel plans you need.
One drawback might be Czech Inn's location. You will need to rely on the tram to get around, but the cheap price makes up for it.
Address: Francouzska 76, Prague 2, Nove Mesto. Get there by trams: 4 and 22.
Rates and review for Czech Inn Hostel

Hostel U Melounu

U Melounu is close enough to walk to Wenceslas Square and other Prague attractions. Plus, the metro is very close as well. And, at the same time it's quiet - tucked away off a little street.
The rooms are modest but very clean and comfortable. This is really an oasis in the middle of the city. I don't think any other Prague hostel can say it has: high-speed internet, parking, barbecue and a garden.
Address: Ke Karlovu 7, Prague 2, Nove Mesto. Get there by metro line C - station I. P. Pavlova.
Check availability and reviews

Hostel Downtown

Another well-located hostel, the aptly named Hostel Downtown is fast becoming one of the most popular places to stay in Prague. It's close to Wenceslas Square, Old Town and basically everything else.
So, the nightlife and amount of stuff to do will be limitless here.
Even the metro and tram stops just around the corner - but you may not even need it.
Hostel Downtown gets impressive reviews especially for its cleanliness which we know is very important when it comes to a hostel. Prague, after all, has its share of notoriously bad places.

They also offer a variety of rooms starting from the cheap dorm types to rooms with private bathrooms.

Hostel Downtown is teamed with Hostelling International, so look for your discount when you book.
Address: Národní 19, Prague 1, Nové Město. Get there by metro line B - station Národní Třída.
---
Back from Prague Hostel to Accommodation
Back to My Prague Sights homepage 
---