Prague Photos Charles Bridge
These Prague photos Charles Bridge offer a look at Prague's famous path. It spans between sharp spires and includes centuries of history. Get on and off the bridge for the best photos of Prague's famous bridge.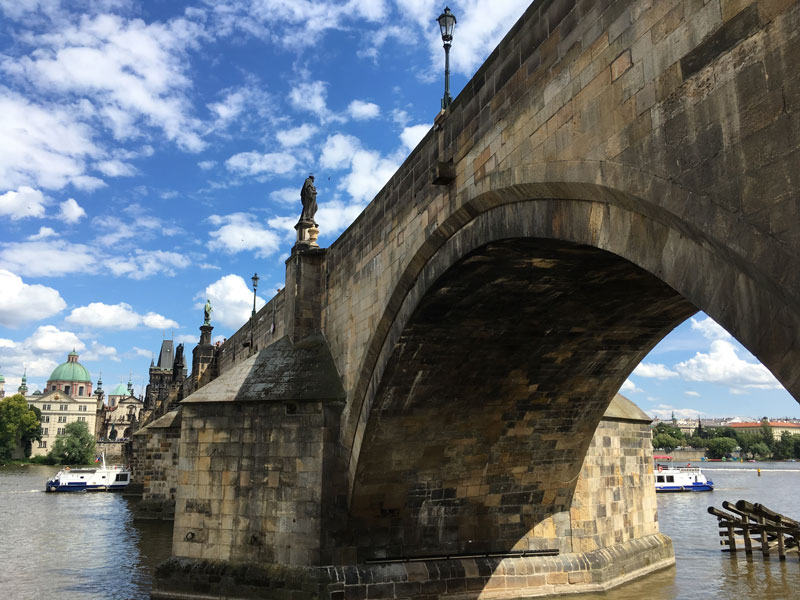 Hopefully, our pictures will invite you explore the area around the bridge. Because, we think the bridge's allure is more than the statues you see while crossing. Charles Bridge is a thing of heavy stone beauty, a 14th century marvel.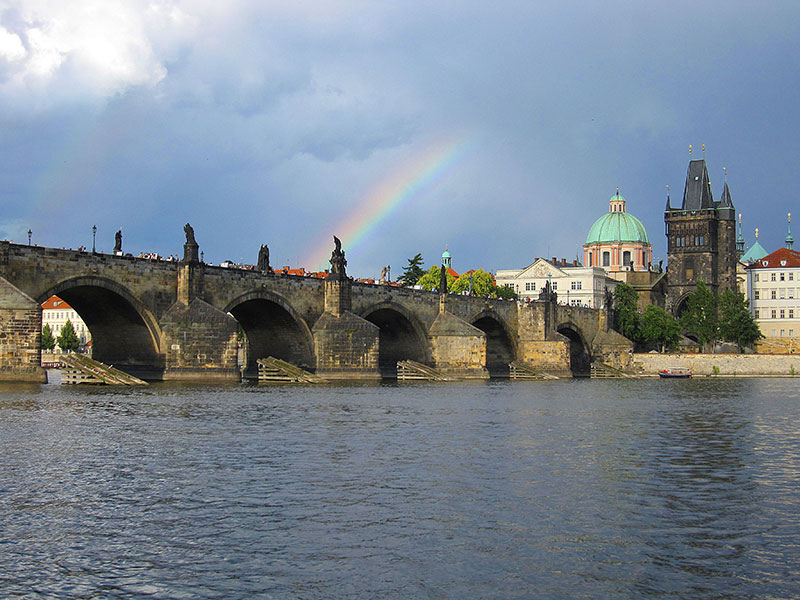 And, what better way to photograph the bridge than from unique angles? Off the beaten path we say!
Getting the best photo:
Get up early if you want the bridge to yourself during daylight hours.
That's when actual locals use the bridge. Even if you get there between 7 and 8am, you will have much more freedom to shoot. Any later, the bridge is swarming with tourists.
The crowds are a bit less intense in the early evening hours and of course at night.
The bridge itself takes on a different look everyday depending on the weather. For us, the history here is almost palpable when the weather is worse somehow. Those gloomy days can be especially atmospheric - cloudy, moody, foggy or dark - it's all good.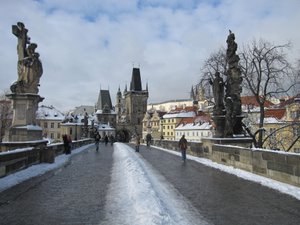 That's when the inner history of the bridge and pictures come to our heads - images of knights crossing the bridge delivering messages to the castle from afar...
Not sure we ever capture that imagination with our photos of Charles Bridge, but you can't blame us for not trying!
Extra note... for lighting purposes, it's important to know that the bridge lies east/west.
More Prague Photos Charles Bridge
Charles Bridge is lined with 30 statues - each one different with a story to tell.
And, the bridge is home to a few legends and places to touch and rub depending on what you've heard and read. The legends all seem to vary all over the place.
| | |
| --- | --- |
| One of 30 statues on Charles Bridge | Looking toward Old Town |
| Bruncvik guarding Charles Bridge | From Old Town bridge tower |
| From Old Town to Prague Castle | From Kampa Island |
| From Mala Strana Tower | Foggy Morning on Charles Bridge |
Share Your Photos of Prague Charles Bridge or other sights?
Already been to Prague? Please share your photos of Charles Bridge or other Prague sights with us and other readers.
Your best Prague photos, no matter the sight, will be posted on our pages for others to see and experience.