Prague Photos and Picture Taking Tips for Visiting

Our Prague photos offer you a look at the main attractions and a few wonderful details. After all, Prague is an amazing and visual place.
So, whatever you do, don't forget to bring your camera. You absolutely must photograph Prague in all its beauty, no matter the season.
Below you'll find a short video montage of some of our favorite photos and links to specific photo-related pages according to specific sights. We've also tried to sprinkle in a few photo tips that might help you take better photos of Prague while you explore our streets too.
Already have your own Prague photos? Please share!

Prague Photos - Charles Bridge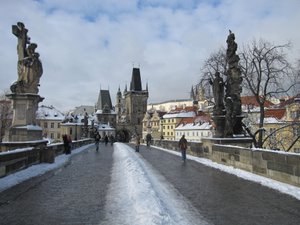 This fantastic 14th century bridge that spans the Vltava River is one of the most photographed and popular sights in Prague.
We find it nice to avoid the crowds and soak up the bridge's atmosphere from a variety of angles. Of course, most visitors stay on the beaten path instead of inspecting the bridge's stonework and features up close.
To get the best photos of Charles Bridge, we recommend getting off the bridge at some point and seeing it from a different angle.
Try setting up above the city on either Petřín or in Letna park near Hanavský Pavilion, for example. Or, head to the little beach on Střelecký Ostrov for a wide photo.
Read more about Charles Bridge.

Photos of Prague Castle

You could easily spend most of your vacation in Prague photographing just one attraction - the castle.
Best of all, you don't have to take the same photos as everyone else. Honestly!
Here are a few ideas for getting that shot of Prague Castle from your own point of view...
Shoot the views. It's easy to get a grand shot of the castle standing above the city. We like the scene from the Bedřich Smetana statue near Charles Bridge in Old Town.
Charles Bridge towers. The towers that bookend the bridge also provide superb shots of the castle. These will be tricky with a tripod, but worth the chance.
Castle gardens. The castle's royal gardens and the green areas of the Belvedere offer lesser known spots to see the castle's northern side.
Petřín/Strahov Monastery. The upper most path in Petřín park that runs from the street Uvoz is a great spot to set up. And, a little higher up from the back side of Strahov is a distant shot of the castle and the whole city.
Read more about visiting Prague Castle.

What are your favorite things to photograph while traveling?
Vistas, street scenes or up-close details?
Found out what we like about Prague along with more photo tips and pictures of Prague.
Get Unique Prague Photos in Old Town

Old Town is a bursting scene of things to photograph. It can be fun and a creative challenge to photograph.

We like to sum up our take in one word... DETAIL.
Old Town isn't about one specific landmark like the castle or Charles Bridge. It's a world details and layers.

So, treat Old Town a bit differently when you head out to take photos of Prague. It's more like a massive exhibition open with all kinds of themes and flavors... winding streets, painted facades, spires, churches, arches, doorways, cobble stones, shops and more... a swirl of things to photograph.
We recommend making Old Town your own by getting up close. Capture the details that make this area so magical and different from all the other cities you've visited.
Getting up early to explore the square and its side streets is highly recommended. And, for a prime view of Old Town's density, we suggest climbing the main tower above the Prague clock. Many aerial Prague photos you find are taken from this view point.
Remember too that Old Town quickly runs into other parts of Prague that are equally interesting including Josefov (Jewish Quarter) and New Town (Nové Město).
Our Favorite Area to Photograph

Okay, we have to admit something here. Our camera prefers Malá Strana over any other. It's not us, it's our camera ;-)
This is the area just below Prague Castle, and across the river from Old Town. It often gets neglected by general tourists so have a look around. It's easier to take some good shots here without the random tourist stepping into your photo.
The streets of Malá Strana offer that quiet, subtle feeling. It's a more docile area and it's where a lot of idyllic photos of Prague are taken.
Best of all, you don't have to wake up super early to get good photos in this area. We suggest walking from Malostranská metro station toward Charles Bridge and onto Kampa Island and the streets nearby.
You might also consider the gardens in this area. Wallenstein and Vrtbovská gardens are arguably two of the most beautiful sights in Prague.
---
Share Your Prague Photos

Already have awesome photos of Prague? Share with us and we'll post them for everyone to see.
Photo Upload
Please submit the form below and upload your photo with a brief description.
Readers' Photos of Prague
Click below to see photos and read descriptions from other readers...

Sunset behind Prague Castle

This is a picture I took from the Old Town side of the castle at the sunset. We were inside the big boat that is a restaurant (Italian?). Can you see my …