Prague Tourism Facts and Info
Welcome, our Prague tourism fact and info center is here to help. Well, we're not an official tourist center with bored employees ;)
But we've got a handful of facts, travel links, tourism statistics and some pretty photos to tempt you into visiting our city.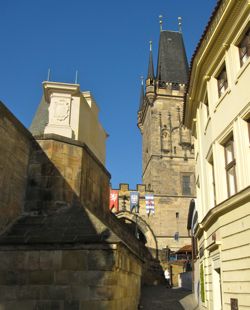 Of course, tourism is big business in Prague. So you won't be the only one to improve our annual statistics.

Regardless, if you do visit us, be forewarned... many visitors arrive as tourists only to later become permanent residents.
Speaking of Prague, Franz Kafka described the city ever so gently... 
"This little mother has claws, it won't let go."
---
Prague Tourism Facts and Stats
After a dip in tourism in 2009, Prague has rebounded in recent years. At the time of writing this, 2014 set a record for the number of visitors.
Recently published reports that Prague is the sixth most popular city in Europe.
If you look around you on the streets of central Prague, these facts won't come as a surprise. Prague has become more of a cultural and tourist hub since the fall of the Communism. More info on the Prague's official tourism website.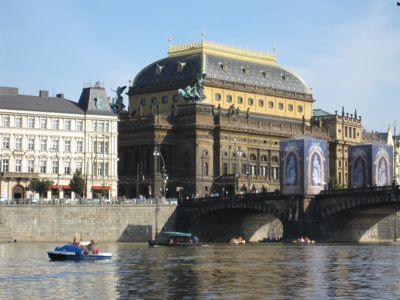 Escape the crowds and rent a paddle boat!
And, just consider that Prague suffered very little damage in WWII. We have centuries of various architecture in a very dense and accessible city center.
According to tourism statistics, German citizens provide the majority of tourists in Prague with Russians and American visitors on the rise.
Most visitors still choose hotels in Prague for their accommodation - but we've seen a number of apartment rentals become available in recent years.

Prague Info Centers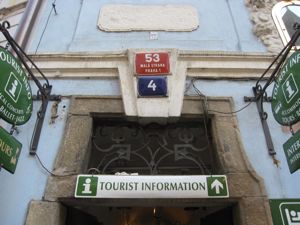 Official Prague tourism has a variety of info centres around the city. They won't solve all your problems and can be crowded at times, but they can be helpful for certain plans.
For example, if you have a specific question or need to reserve theatre or opera tickets then give them a try. They even sell the Prague Card and book sightseeing tours.
Regarding tours in Prague, we suggest booking something in advance, especially walking tours. With a little research this option will save you lots of time and effort. Period.
The most underused tourist office is the Czech Info Centre in Old Town. The staff is super friendly and has all kinds of free stuff related to exploring Czech Republic. Pop in just to look around, it's well worth it.
Official Prague Tourist Offices
Old Town Hall: Daily 9:00 - 19:00. Probably the busiest info centre in Prague.
Rytířská Street, Old Town: Mon - Sat, 10:00 - 19:00. Less crowded and very central. 
Lesser Town (Mala Strana): Apr - Oct, 10:00 - 18:00. Helpful and not very busy.
Main Train Station: Mon - Sat, 10:00 - 18:00. Perfect if you're traveling by train (but not for train info).
Prague Airport: daily 8:00 - 20:00. Very useful if you have time.
Here's a look at tourism and crowds in Prague month by month. Of course, official statistics will show you the obvious - the warmer the weather the more tourists we have. In general terms, you will also find that hotels and flights are more expensive with the demand for visiting Prague.
Standard holidays are a very popular time in Prague as well. Rates and crowds for New Year's, Easter and Christmas are always higher.
Czechs usually take their own vacations during the summer months, so there's an eerie calm in some residential areas of Prague in July and August. Meanwhile, the main sightseeing areas will be a constant mix of international visitors.
January- New Year's is the busiest time in Prague, avoid the first week in January. After that, the streets are far quieter. More on tourism in winter.
February - the best month to visit and not feel like a tourist. Cold and cheaper hotel rates await you.
March - a nice month to visit. Weekends will be more crowded but less demand means more choices for you.
April - a very popular month especially the Easter week. The main sights will be packed for sure. Book early, very early if you can!
May - another popular month, but the city usually awakens from its winter slumber. The May 1 holiday and weekend is very, very popular!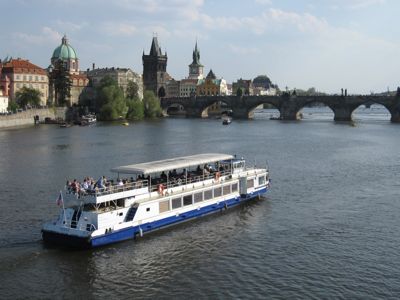 June - yes, another crowded month for Prague tourism. Book early and see the sights in the a.m. and late p.m. for less crowds.

July - school is out in Prague so you'll find less locals, but the sights will be jammed. The warm weather makes for a perfect time to get outside and take a day trip by train.
August - festivals, warm weather and long weekends make this a busy time. You will find fewer locals in August and deals to be found if you book ahead for more than 3 days.
September - a surprisingly popular month especially on the weekends. But, the weather in Prague is often ideal - not too hot and not too cold.
October - crisp cool weather starts to cut back on the crowds, but still popular on the weekends with visitors driving to Prague.
November - Prague tourism dips this month, so the crowds are less intense - and the weather isn't too cold.
December - the first three weeks are quiet around Prague and the Christmas markets are always fun. Avoid the crowds by avoiding Dec 20 - 31.
---
Back from Prague Tourism to My Prague Sights homepage 
---