10 Unique Reasons to take
a City Break in Prague
Taking a city break in Prague is an excellent choice. Okay, we're a bit biased because we love our city.

But, honestly, we think Prague is a better choice than Amsterdam, Paris and other popular European destinations for city breaks.
To prove it, here are 10 reasons to choose Prague over another city.
If these don't convince you to at least check on that cheap flight, then we've failed miserably.
And, you can tell us about it!
---
1. Prague Castle
This one is easy. Prague Castle is the largest functioning castle in the world!
We would consider visiting Prague, just to visit the castle. It's that wonderful.
The castle will stay with you forever.

2. Cheaper than Paris, London, Amsterdam...
Prague is still cheaper than most other European cities, period.
So, not only do you get a beautiful city, but you can save on cheap hotels, flights and all tourism related stuff. Meanwhile the real savings will come on food and drinks. 

Take a moment to find restaurants and bars away from the crowds of Old Town Square and you will find very affordable meals and drinks.
Note, you can save even more if you plan your city break in Prague for the off-season months of November through February. Hotels and apartment rentals will always have a deal for this period (outside the main holidays of course).
3. From the airport to Old Town in a flash.
Prague's airport is super close to the city center. And, it's hassle free.
We recommend booking an airport transfer,in advance to save even more time.
Arrive in Prague, check into your hotel and find yourself a delicious Czech meal or beer in an hour. Where else can you do that?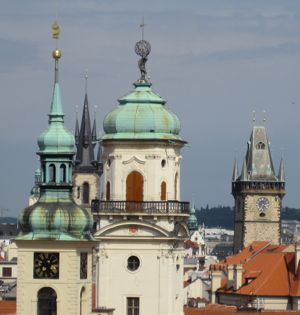 4. Prague, the outdoor exhibition.
So, after you arrive in Prague in a flash, you will be amazed at how accessible the city is. That's because the city center is like one mass of attractions, wall to wall.
From Prague castle to Wenceslas Square, the essential bits are lined up one after another. So you can see more in two days than any other city.
And, you might not have to use the metro once. Just bring your two feet.
5. Come for the differences.
Prague is a layered experience. Lots of contrasts and peculiarities.

Whether its the stark communist leftovers or off-beat local customs, there is a certain "cultural appeal" in Prague that you won't find in other Western countries.

We think that this mix of details will give you a deeper travel experience.

Just hop on a tram and look around. Soak up the everyday life away from the tourist zone. And, you will quickly experience that this isn't your classic European capital.
6. Day Trips
Prague is a relatively small place. 

It's dense and compact especially the historical tourist zone. And this means that you can easily travel outside of the city limits.

So why not take a day trip to see something different?

Actually, you can take a half-a-day and see something most people don't.

We like to hop on a train in the morning and visit a castle or village and be back in the afternoon for Prague's urban comforts. Try these trip ideas.

Or, you can head to a lesser known spot outside the main historic center and be back for lunch. Places like Vyšehrad, Obora Hvězda or even Divoká Šarka will add a local layer to your stay and they are all within an easy trip out of the city center.
7. Prague is very safe, even at night!
There are really two parts to Prague nightlife.

First, as you probably know we have a diverse nightlife with fantastic clubs, classical music and more.

But the second and maybe less known par of our nightlife... Prague is a spectacular place to explore at night - safely. Yes, sightseeing at night.

Imagine the breathtaking views of the castle and mystery of Charles Bridge under lights and shadows. The city is absolutely magic at night. It's a feeling you won't get anywhere else nor forget any time soon.
So, the night life on your city break in Prague will be much more than a drink in a bar.
8. Prague is your mirror.
We know this might sound cliché. But bear with us a second.
Think of something you are passionate about, but not sightseeing related.
Is it music or funky art museums?
What about antiques or a cool hangout or beer garden?
Well, whatever your pleasure, you can undoubtedly find a reflection of your interests in Prague.
Vinyl records in Prague?  Yes!
Urban off-beat places to visit?  Of course!
Outdoor markets in Prague?  Yes, indeed!
So, what's your angle? How will your city break in Prague fit into your way of life?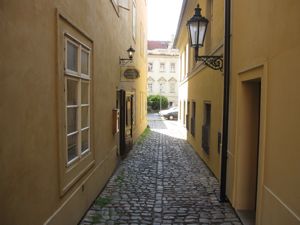 9. Customize your city break in Prague.
This reason is one of our deepest passions about Prague.

You see, Prague in many ways is like an oversized village.
It's not a large metropolitan capital with office buildings, impersonal streets and heavy traffic everywhere.

And, even though there are thousands of tourists visiting every day you can still find a quiet, unique place to "call your own."

Maybe your favorite spot will be a cafe that your guidebook forgot to mention or just one particular fairy tale building on a quiet street in Mala Strana. 

We certainly have our favorite spots and we think you will find yours too. 

Best of all, these places and hidden gems are often just a stone's throw from the main tourist path. So, plan your city break in Prague and come find your favorite spot.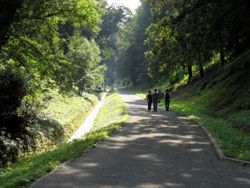 10. Unique tours and sightseeing.
Thankfully we didn't have to get too "touristy" on this page - even though sightseeing is a huge reason to visit.
Of course, you'll want to do a bit of sightseeing in Prague.

But what kind of sightseeing?
The possible answers are so diverse it will make your head spin. Locals have come up with all kinds of ways to share the city's sights - not just typical Prague walking tours.
Just imagine the options... pub crawls, bike rentals, Segway tours, horse and carriage rides, balloon lift, antique car rides, river cruises, coach tours... the list goes on and on.

You just have to decide what fits your budget and interests.
Ready to book a city break in Prague???
So... did we convince you to book that break?
Did we tempt you at least a little bit with our fun and maybe silly reasons?
Be honest and let us know if you have questions, doubts or anything else. We want your city break in Prague to be the best possible getaway.
Back to Prague Tourism from City Break in Prague