Ludmila Apartment

Luxurious Apartment with Incredible Views
The Ludmila Apartment is a restored two bedroom attic apartment. From the painted ceiling of the foyer to the incredible views of Prague, this apartment is absolutely unique.
It includes all the amenities of home and is tastefully decorated with luxurious details. Click photo for slideshow.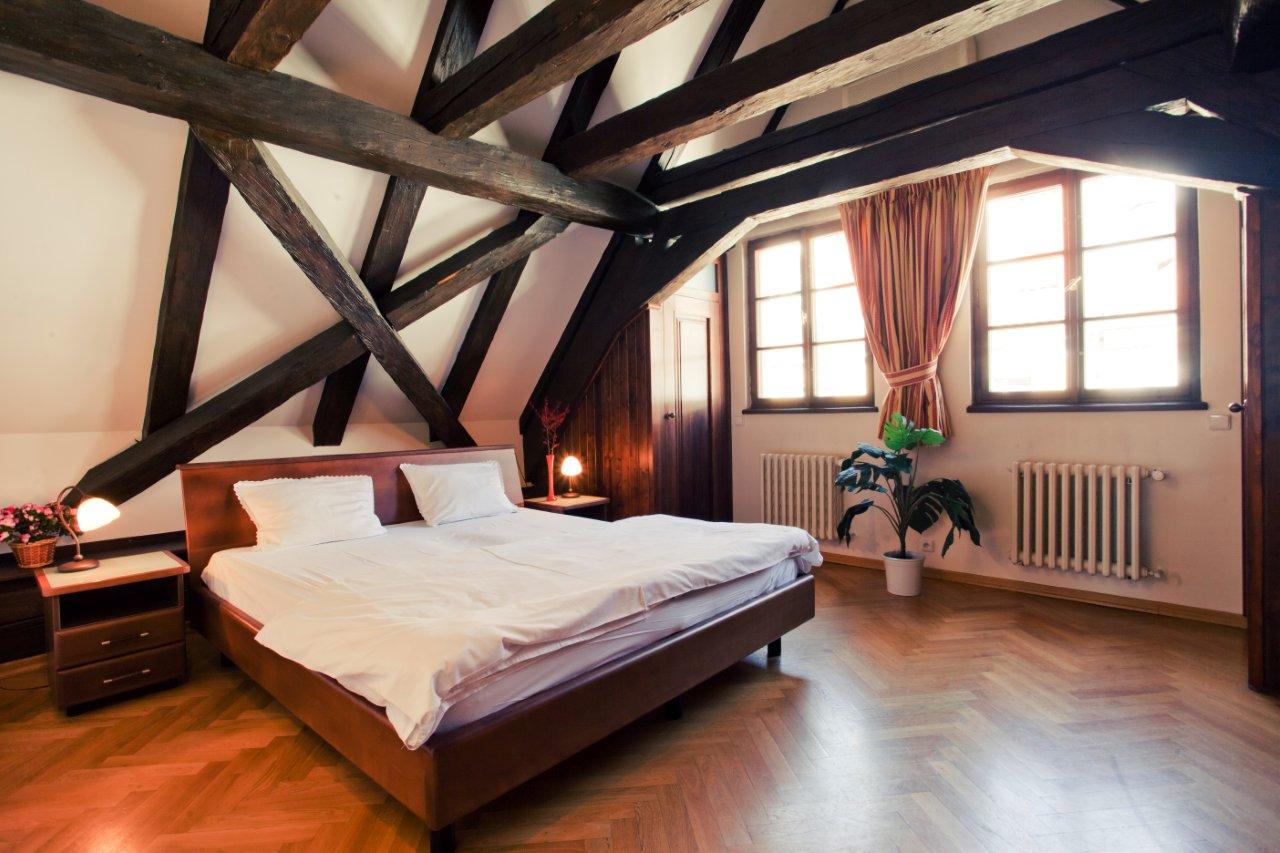 The Ludmila is part of Residence Thunovska - a historic building just below the castle. The residence dates from 1527 and has a world of charming details.
The Ludmila has two bedrooms and sleeps 4 persons (and some families of five). The main bedroom has a fantastic perspecitve - a view of the castle and the 200 plus steps leading up to it. It's very unique indeed.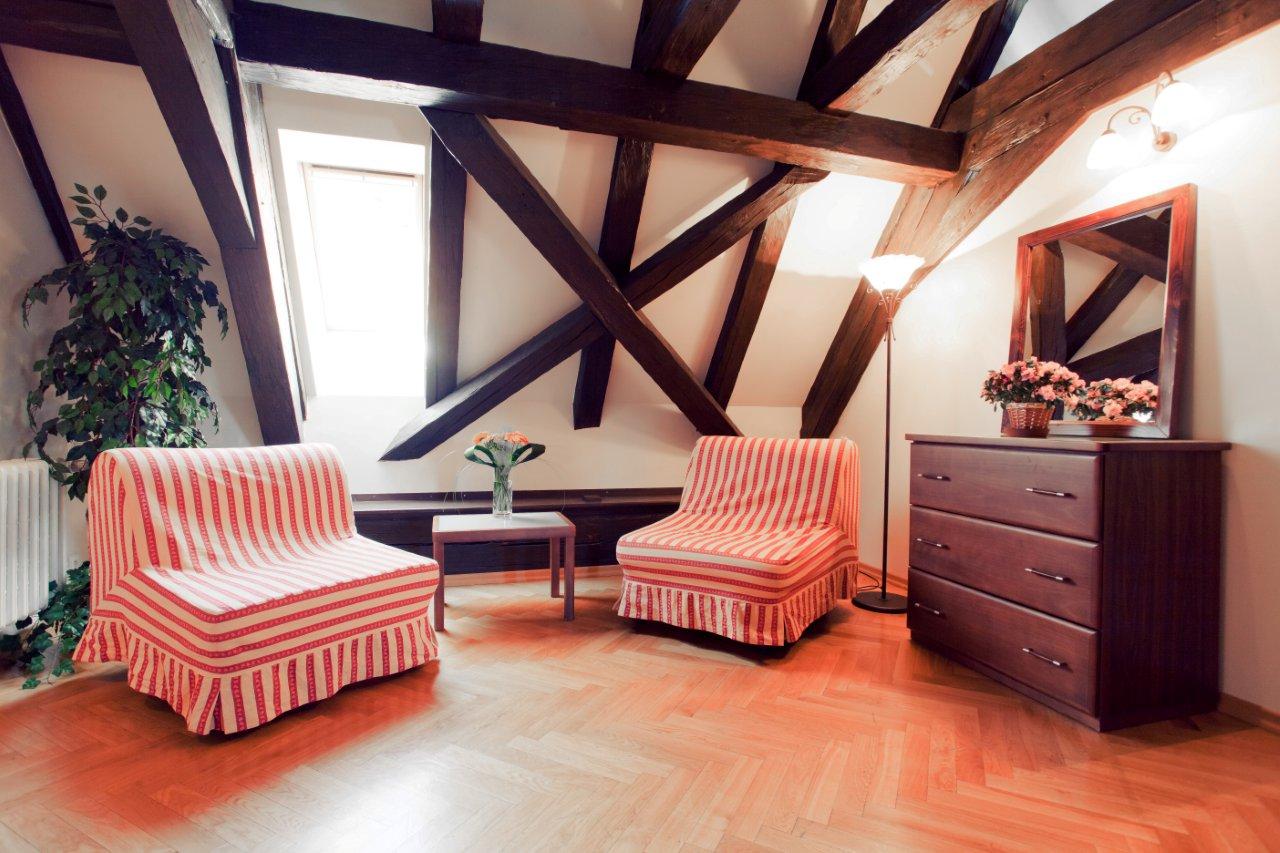 Here is the panoramic view from the kitchen. Who wouldn't want to wake up and have this with their coffee?
The apartment includes a fully equipped kitchen unit. Breakfast can be included in the price of the apartment. It's served in the cute Antique Cafe downstairs.
---
Ludmila Apartment Details

Apartment Details...


Wi Fi
Satellite TV
Dishwasher
Iron, ironing board
Hair dryer
Coffee maker, tea and coffee
Fridge, stove, oven
Washing machine available in cellar

Location

Public transport

Metro station: Malostranská, 10 min walk
Tram stop: Malostranské náměstí, 2 min walk
Trams: 12, 20, 22
---
Rates and Info

Winter

Nov - Mar: 99 eur

Summer

April - Oct: 129 eur

Holidays
All rates are for 1 or 2 persons.

Each extra person is 10 EUR/night.

Discounts apply to longer stays.

Taxes and cleaning fees included.

Towels and bed linens included.
The apartment is available for daily, weekly and monthly

stays.

2 night minimum stay

Residence Thunovska dates from 1527, so there is more here than just their nine apartments. You get a bit of history and lots of lovely details throughout the building.
Location
The Ludmila Apartment is in a great location. Here's a list of what you will find in the immediate area:
Restaurants: There are countless restaurants near the apartment - too many to list :-) Malá Strana is home to many fine restaurants and traditional pubs.
Food Stores: There is a small grocery store just around the corner and up the hill a few metres. It has everything you'll need for shorter stays. There's a larger store near the foot of Charles Bridge. And, there's a large Tesco department and grocery store about 5 minutes away by tram.
Public Transport: The tram stops about 100m from the apartment at Malostranske namesti. Trams 12, 20 and 22 stop here. And, the Malostranska metro station is about 7 minutes away. It's part of the A line. Read more about public transit here.
Sights: The main attractions are all very close to the Ludmila. They include:  Prague Castle, Charles Bridge, Old Town and the Jewish Quarter.
Of course, there are other lesser known sights as well. These include places like Strahov Monastery, Wallenstein Garden, Vrtbovska Garden, the Loreta, the Infant Jesus of Prague and Kampa Island to name just a few.
Also, don't forget to visit Petřín Park and its wonderful views of Prague and Petřín Tower.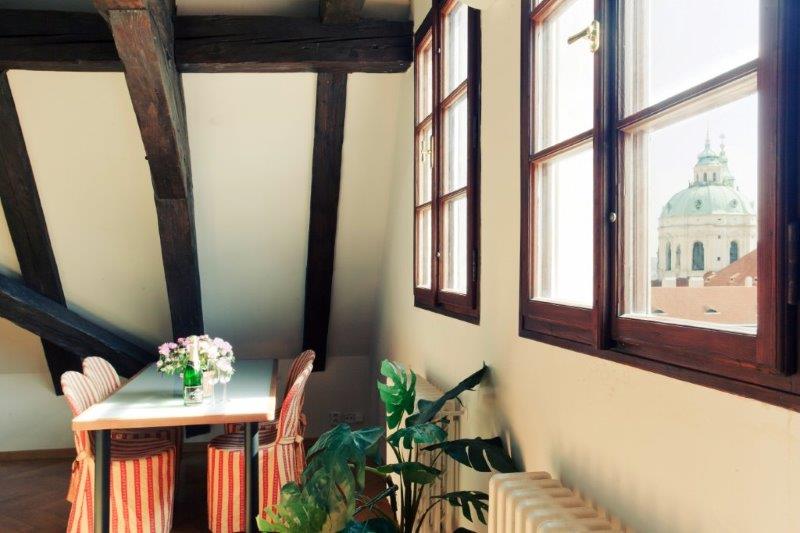 Home > Apartments in Prague > Ludmila apartment