Marian Apartment

The Marian apartment offers a certain ambience that many hotels in Prague can never provide.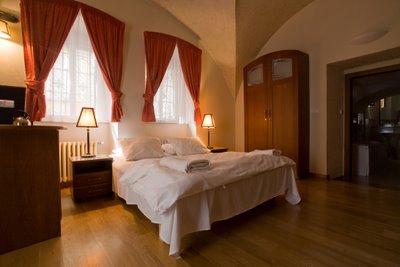 Kitchen corner to the left and bathroom to the back
It's that special look and feel of Prague as you might have envisioned it years ago. But, this apartment is completely modern inside while holding the beauty of the past.
The Marian a small apartment on the first floor of Residence Thunovska, a lovely family owned collection of rooms and apartments just below Prague Castle. The building itself was built in 1527 and the family has kept its soul intact while offering comfortable accommodation.
Marian Apartment in detail

• Classic arched ceilings in 16th century building

• Completely new inside with luxury fittings

• Walk to all sights or use easy transport connections

• Fully equipped kitchenette, satellite TV, Wi-Fi and more

• Bathroom is equipped with shower, bathtub, toilet and bidet

• Marian sleeps 4 persons, 1 double bed + 1 sofa bed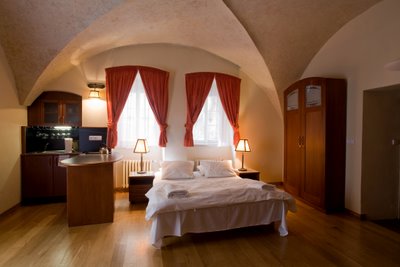 Looking into the apartment from the entrance
So the building on its own is a unique place to stay in Prague. But it might be its location that actually "steals the show!"
The Marian is located just below Prague Castle on a quiet lane with virtually no cars whatsoever. Just outside are the Old Castle Steps which most tourists don't even use these days. So everything is set for a romantic stay in our favorite area of Prague, Mala Strana. The address is Thunovska 19.
Prices and Availability

We have an exclusive agreement with the residence for the best possible price.
This means that the Marian apartment has flexible rates, depending on the season and their availability.

Please contact us for the best current rate. If you have a specific budget in mind, please let us know and we will do our best to meet it. You can also choose to book the Marian apartment with or without breakfast.
Contact for rate and availability.

Kitchen corner is equipped for making small meals.
The Marian has a fully equipped kitchenette. You'll find enough here to make easy meals including two stove top burners, dishes, utensils, etc.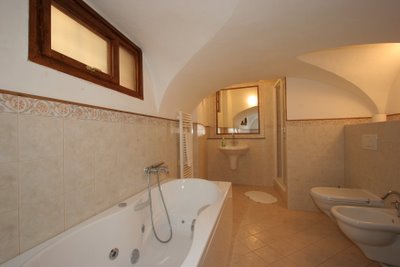 Wow! Jacuzzi tub, shower and bidet!
The Marian is perfectly located. It's an ideal location for sightseeing or just hiding away in Prague's Lesser Town (Malá Strana). You can easily walk wherever you need to go. Or, you can use the tram that's just about 100 metres away. The metro is about 8 minutes walk from here as well.

Eating Out: Malá Strana has many, many well respected restaurants which are a short walk from the residence.

Eating In: There are two small groceries nera the apartment and you can find larger stores in a few minutes by tram. The apartment has a fully equipped kitchenette.

Public Transport: The nearest metro station is Malostranská. It's about 8 minutes away and the closest tram stop is about 2 minute's walk from the building. The stop's name is Malostranské naměstí.
Attractions and Sights: The apartment is close to many sights. Some of the nearest ones are: Prague Castle, Charles Bridge, Petřín Park, the Infant Jesus of Prague, Kampa Island and Wallenstein Garden. And, don't forget to explore the small streets of Malá Strana - they are perfect for just meandering.
Residence Thunovska with 16th century facade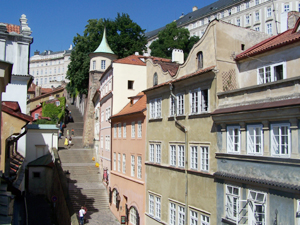 Just outside the residence are the steps to the castle.
Residence Thunovska offers a variety of other apartments as well. Please see our other pages for more information.

Studios Apartments: Alexandra, Karl

Large Suites and One Bedroom Apartments: Belvedere, Lorenz, Silvia and Magdalena

Two Bedroom Apartment:
Ludmila
Home > Studio apartments > Marian apartment