Don't Worry! Kids in Prague will be just fine
What can kids in Prague do instead of sightseeing? As a parent myself, I totally understand your concern. But, I've got your back.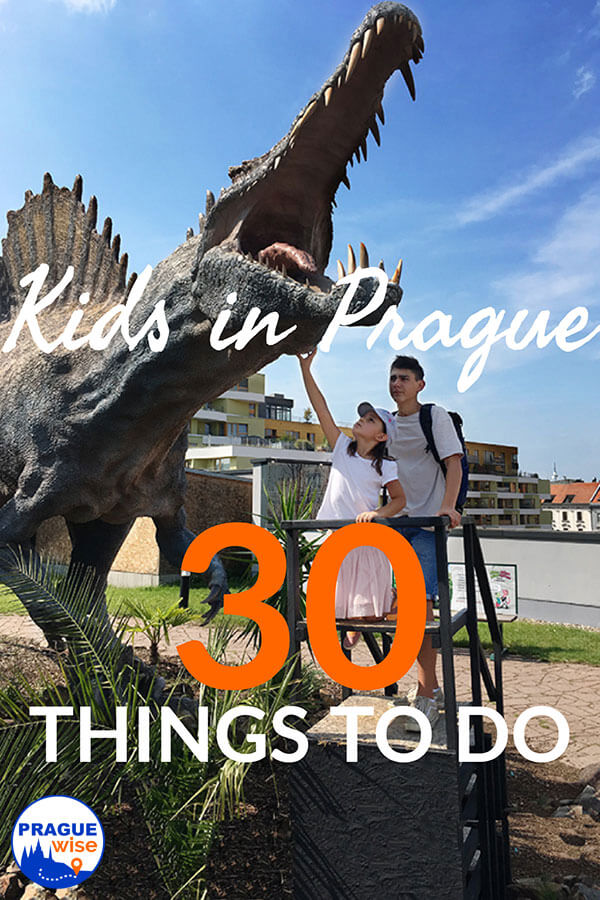 This page offers a fun list of things to do, for kids and parents. And many of these can be combined with a little sightseeing along the way.

This page is pretty long so these links will help you jump to specific parts...
Malá Strana and Castle
Discover the world of Petřín park - You could spend a whole day in Petřín with your kids. Some things to do include… visit the Mirror House, ride the funicular, see the telescopes at Stefanik Observatory, climb Petřín Tower and visit various playgrounds. Read more about Petřín park

Walk the narrowest street in Prague - This tiny, one-way street is essentially just the space between two buildings. But it even has its own traffic light. The lower part empties into a restaurant with riverside dining, which is a nice stopping point. (As an added "bonus," a few steps from this street is one of the more eye-opening statues you'll see - David Černý's two men peeing).
Believe it or not... the Museum of Miniatures. Have you ever seen camels in the eye of a needle? Or what about the smallest book in the world? Well, they are here and you won't believe your eyes. Come peer through the microscopes to see incredibly small art pieces called microminiatures. Address: Strahovské nádvoří 11. Tram 22 to Pohořelec. Adults 130 CZK. Children and students 70 CZK.
Visit Strahov Library and see its cabinet of curiosities. The two halls of the library are amazing for their painted ceilings and decadent details. But children might be more interested in the hallway that connects the halls. It's lined with cabinets filled with strange and curious things indeed. A few things housed here... a dodo bird, cannonballs, elephant trunks, ancient books and more. It's a small place, and cheap. Open daily 9 - 5 (except 12-1 pm). Adults: 120 CZK. Children: 60 CZK. Tram 22 or 23 to Pohořelec.
Go to Kampa Island. This island is the perfect, central place for kids in Prague to run around and just be themselves. The island is in Malá Strana and is partially under Charles Bridge. It has two playgrounds - a larger one right below the bridge and a smaller one for small children a short walk south from the bridge. Kampa also has two original mill wheels, odd oversized baby statues, open areas perfect for picnics and great views of the bridge and Old Town. Read more about Kampa Island
See Wallenstein Garden. One of my favorite places in all of Prague, this garden is free and fun to just wander and experience. Kids will marvel at the giant fish in the pond, see beautiful peacocks and even great horned owls. See if you and your children can also find the hidden creatures in the rocky wall. And, don't miss pumping water from the well in the Senate courtyard. Open daily April - October. Metro A to Malostranska. Tram 12, 15, 18, 20, 22 and 23 to Malostranská. Read more
Visit these 5 riverfront spots. The Vltava River often gets overlooked because of the sights above and beyond it. But, kids in Prague will enjoy the closer aspects for sure.
 (1) The piers at the north end of the river is a fun place to see the boats and walk the river. It's just 5 minutes from Old Town Square, near Čechuv bridge. 

(2) Just north of Charles Bridge in Mala Strana you can walk to the water's edge and feed the swans and watch the boats. The view of the bridge and Old Town is awesome too.
(3) Střelecký Island is another overlooked attraction. Kids will enjoy the rope and wooden climbing elements, the open green space and the little beach on the north tip.
(4) The next island down (Slovanský) offers another playground and interesting viewpoint of the river. It also has a restaurant with outdoor seating and pedal boats.
(5) Further down the river below, the Dancing House, is the popular Náplavka embankment. It's home to a weekend market and festivals throughout the year. Kids will enjoy walking along the waterfront, seeing the swans and watching the train rumble over the bridge.
Explore the gardens under Prague castle - If you are an explorer like your kids, then you will want to find this overlooked spot below the castle. It's an absolutely charming place and will add a little exercise to your day. (Apr-Oct, 100/70 Kč)
Old Town and Kids in Prague
See the amazing library sculpture. Take 5 minutes from your tour around Old Town Square and walk to the central library. Just inside the entrance is a mesmerizing stack of books that kids in Prague love to see. It will wow adults too. You have to "experience it" for a fuller understanding. Address: Mariánské náměstí 98/1, Old Town. Metro A to Staroměstská or trams 17 and 18.
Go pedal boating. Renting a pedal boat and cruising the Vltava River is super fun, and cheap! The boats on the northern tip of Slovanský Island offer the perfect starting point. From here you can go around Shooter's Island and get fantastic views of the city. Other rentals include row boats, swan boats and motor boats. Life jackets are provided. Prices start at 200 CZK/hour per boat for the boat. The island is just opposite of the National Theater, near Legii Bridge.
Visit Prague's Apple museum. This place is perfect for the little (and big) Apple fans in your family. It offers the largest, private exhibition of Apple products in the world. An interactive guide (smartphone needed) will take you through a history of Apple, its products and the company. There's even a vegan cafe that Steve Jobs would be proud to eat at. The museum is right in Old Town, close to the square. Address: Husova 21, Old Town. More info

Explore the Old Town Bridge Tower. On the Old Town side, this tower is fairly easy to climb for all ages. The views are fantastic, but the exhibition inside can be interesting too. In the least, it's a fun activity in an ancient building. Come in the evening for a prime view of the sunset. Adults 100 CZK. Children 70 CZK.
See Prague's famous astronomical clock. This is a no-brainer for kids in Prague! Right on Old Town Square, this incredible clock offers a little performance on each hour. A cock crows, apostles appear to pass by and a skeleton rings a bell. Arrive a few minutes before the hour and stand close, because it gets very crowded. For a deeper experience, take the kids inside the tower to see the apostles up close and climb to the top for one of the best views in Prague.
Lego lovers unite! Kids in Prague love Legos too, so I've got two brick-related suggestions. The Lego Museum is in Old Town and offers an exhibition of pre-made lego sets, including some Prague specific models. Address: Národní 31. Metro B to Národní třída. Tram 2, 9, 18, 22, 23, 41.
Black Light Theater - This remarkable theater combines the magic of light, darkness and music to present incredibly unique shows. They have a few shows that rotate in their repertoire so check their schedule for the best option for you. Younger children may particularly like the Afrikania performance. Address: Národní 25. Metro B to Národní třída. Tram 2, 9, 18, 22, 23, 41.
New Town near Wenceslas Square
Enjoy the hidden garden. Local kids in Prague know this place very well. Behind Wenceslas Square is Franciscan garden (Františkánská zahrada). If you have smaller children they will enjoy the playground or wandering the maze-like pathways. Our time tested tradition is to get ice cream from the nearby sweet shop Ovocný Světozor and sit in the garden. Or, have a seat inside the shop and enjoy their cakes and coffee. This is a local hot-spot for families. Metro A to Můstek. Tram 3, 5, 6, 9, 14, 24, 41.
Visit the National Museum. Prague's iconic National Museum at the top of Wenceslas Square is undergoing an extensive reconstruction but they have moved to an adjacent building that offers new and exciting exhibitions. For example, their current exhibition Noah's Ark is a collection of animals while focusing on saving their habitats. Open daily 10 am to 6 pm. Admission prices vary according to chosen exhibition. Metro A or C to Muzeum. Tram 11 and 13.
Anděl - Smíchov
See the model trains at Andel. This large exhibition known as the Kingdom of Railways includes running model trains and small, life-like settings of all kinds. Some scenes depict real Czech landmarks in fascinating detail. The lighting even changes to show day and night effects. Address: Stroupežnického 23, Prague 5. Open daily 9 -7. Metro B to Anděl. Tram 4, 5, 7, 9, 10, 12, 15, 16, 20 and 21 to Anděl.
See the animals at Prague's mini zoo. This cute little zoo is a stone's throw from the Nový Smíchov shopping mall and Anděl station. It's free to see the horses, kangaroos, and others in their outdoor homes. And, for a small fee you can see the reptiles in the aquarium house. There is also a small playground at the zoo and a larger one, just up the hill behind the zoo which has a fun hillside slide. Address: Drtinova 1A, Smíchov, Prague 5. Metro B to Anděl. Tram 9, 12, 15 or 20 to Arbesovo náměstí.
Ride the little red cable car. If the funicular on Petřín isn't enough for your kids in Prague, then by all means seek out this gem. As part of NH Hotel, this tiny cable car takes passengers from the hotel up the hill to the their restaurant and lounge. It's open to the public and operates like an elevator, so don't be shy. Address: Mozartova 1, Prague 5. Metro B metro to Anděl then 10 minute walk. Tram 4, 5, 7, 9, 10, 12, 15, 16, 20 and 21 to Anděl.
Kids in Prague... Let them play!
The city is loaded with kid-friendly parks and playgrounds. They are in almost any part of the city, even below Charles Bridge in Malá Strana. Let your kids blow off some sightseeing steam with some climbing and sliding.

Other Areas
Come see why Prague Zoo is awesome! Seriously, the zoo has been highly rated for years even after devastating floods in 2002. Kids in Prague particularly enjoy arriving by steamboat from Rašínovo nábřeží. Either way, it's easy to access and fun for everyone. Read more about Prague Zoo.
Escape to Stromovka Park. Escape the crowds by visiting one of my favorite parks in the city. You can spend a day here easily. For kids, there's plenty of playgrounds, ponds, trails to run and trees to climb. But the park also includes Prague's Planetarium and Matej Fairgrounds which has a few rides and carnival games. More about Prague parks
Visit the Technical Museum. This enormous collection is dedicated to all kinds of technology - from architecture and astronomy to photography and transportation. The museum presents a world of real-life items to see and awe at. Much of the exhibitions are behind glass, but if you have kids who like trains, planes or anything like that, they will be wowed. The museum also has a hands-on Merkur playroom. Open Tue-Sun. Adults: 190 CZK. Children 6-15: 90 CZK. Children 6 and under are FREE. More info

Enjoy an IMAX movie. Prague's IMAX theater often has movies specifically for kids in Prague. And regularly films are nature and animal related. We have enjoyed a few of these, including a 3D documentary on lemurs in Madagascar. They also show standard blockbusters too. Address: Atrium Flora, Vinohradská 151, Prague 3. Metro A to Flora. Tram: 5, 10, 11, 13, 15, 16.
Visit Dino Park Harfa. Located on the rooftop of Harfa shopping mall, this outdoor exhibit is a unique experience. Kids will see life sized dinosaurs, some with creative growls and mechanized movements. Most text is in Czech, but any child that likes dinosaurs will easily enjoy it. The mall has free bus services from metro stations Palmovka (bus 140), Vysočanská (195), Skalka (195) and Nádraží Holešovice (201).

Visit the City of Prague Museum. Take the kids to see the Langweil Model of Prague and watch its corresponding 3D short film. The model is a near perfect paper replica of the city from 1826-37. It's very impressive, and the film is a fun flying trip. There is a small play room in the museum as well. Open daily except Mondays, 9 am to 6 pm. Address: Na Poříčí 52,  Prague 8. Admission: 150 CZK adults, 60 CZK children, 30 CZK/person for film screening. Metro B and C to Florenc; trams 3, 8, 24.
Bobsledding anyone? Don't worry, this isn't sledding on ice. And you can control the speed. This unique park offers an 800 meter steel slide and kids can ride with parents. Kids will also enjoy the rope park and trampoline. There is also a restaurant on site. Address: Prosecká 906/34b Praha 9, Prosek. Metro B to Palmovka or C to Prosek then bus 140 or 185 to Kelerka.
Visit Prague's Transit Museum. For anyone interested in public transportation, this is a must-see. Housed in a real depot, kids in Prague can see  city's historical trams and buses come here for unique experience. 
Ride the Historical Tram 41. Prague is proud of its public transport and proudly displays its history with the running of this old tram. Kids in Prague know the instinctively know the sounds of its wheels and bell as it passes through the city on Saturdays and Sundays (12 pm to 6 pm). Just hop on and buy tickets from the conductor. Standard public transport tickets do not apply. A great starting point is at the Transport Museum (above).
Visit Vysehrad Castle. Prague's second castle is more of an old fortress with a park atmosphere. But it's an ideal place for families to escape the crowds. Kids in Prague enjoy wandering through to find different playgrounds, watch the boats from high above the river and see the giant brick walls. For a unique experience, visit the casemates within the castle walls. Led by a guide, you can walk within the walls. It's a unique experience! Read more about Vysehrad
Explore Letná Park. This is another destination that includes more than just one sight. For starters, kids will enjoy seeing the giant metronome as it sways high above the river. Up close this is really a special sight. And you get a fantastic view of the city and river boats passing below. There are a few playgrounds within the park and two outdoor seating areas serving refreshments. You can easily combine a visit with the Technical Museum, just across from Letná. More about Letna

Visiting with kids in Prague?
What kind of things are you looking to do in Prague? How can we help you further plan your trip? Still worried about traveling with kids in Prague?
Feel free to contact us with any questions you might have. Or, leave a comment below.