Budget Prague Tourist Guide:
20 Tips to Save You Money in Prague
This is NOT your regular Prague tourist guide. I'm talking money savings and cheap things to do. Because Prague is not as cheap as it used to be. From hotels to tours, prices have risen quickly in recent years.
But here at Praguewise, I'm all about cheap and free things.
I've rounded up 20 tips to save you money - before and during your trip.
So, put that credit card away.
Back away from Expedia and listen up, please! These tips come from my direct experience with guests and from my own Prague adventures.
Seriously, don't even book your hotel yet. Because there's a tip or two for that also.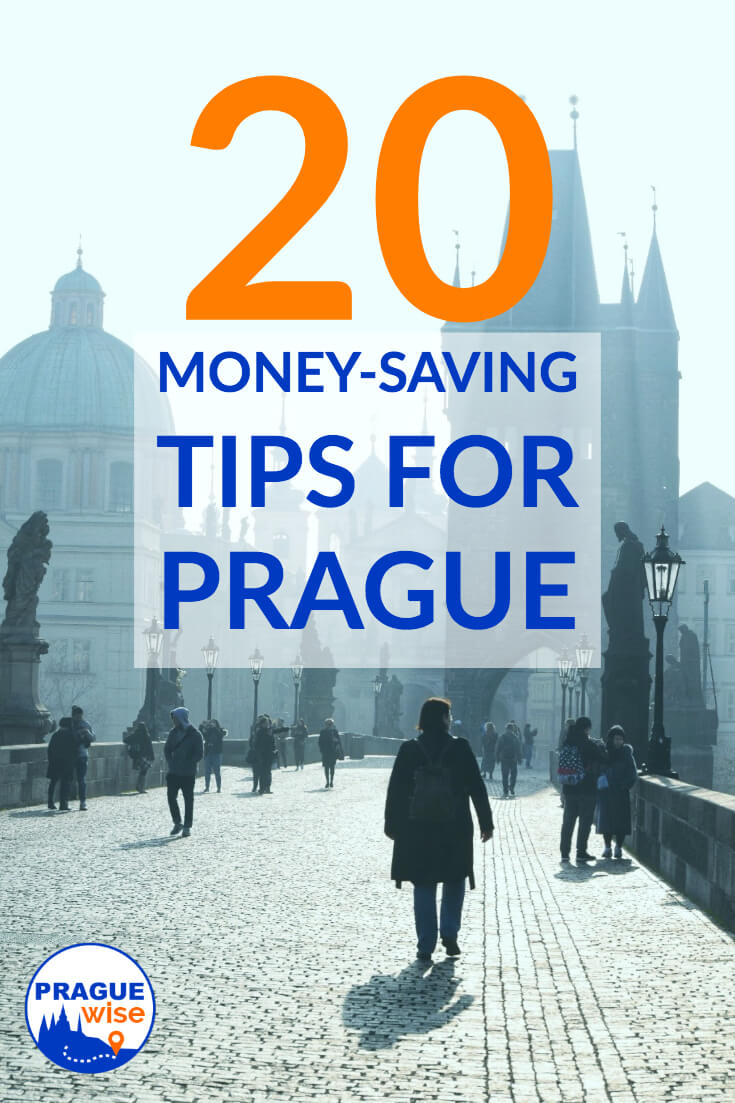 1. Let's Have the Currency Talk
I get a lot of questions about exchanging money in Prague. This topic seems to be complicated, but it's not.
Let's focus the conversation with a few points...
Use a cash machine to get money - but don't use the free standing ones in a random shop. Find one physically connected to a bank.
Check your card limits and fees before traveling. Does your home bank charge large fees? Is your card blocked for international withdrawals and purchases?
If you really must exchange money, ask your hotel for a recommendation. Especially avoid exchange offices at the airport, rail and bus stations.
More tips about using Czech currency
2. Book Direct, Please!
A few years ago local travel businesses dried up when Booking.com came to town. I saw small businesses dry up in a matter of months. Now, many hotels in Prague depend on this one company in order to exist. It's an unpleasant situation.
And, did you know that Booking.com charges hotels at least 15% commission for every booking?
So, let's use this fact to our advantage.
If you book directly with a hotel, they are likely to offer you a discount. Even if it's 5-10%, you'll save money and support local businesses. It's a win-win situation.
To find a hotel, search on TripAdvisor. Many have direct links to their websites from their profile pages.
If you have any questions, please contact me. I'm passionate about this subject.
3. Thanks, Rick Steves!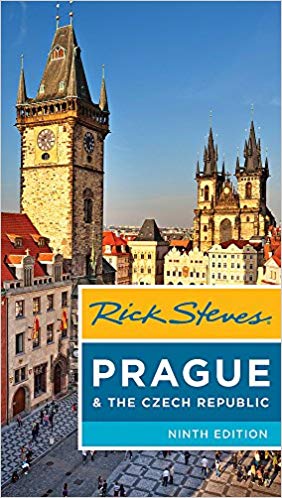 This tip is an extension of the previous one, but it might be the best one!
The American travel writer Rick Steves (extraordinaire) has a super, helpful guidebook to Prague. It's packed with great information about the city and Czech Republic. I have one myself ;-)
But for our purposes here, we want to focus on his hotel section. Because he's teamed up with local accommodation to offer you a Rick Steves discount. And, this discount can literally save you a lot of money. Rick Steves guidebook on Amazon
You need to buy the book first. Then find which hotel offers the discount and contact them directly. It's best to call.
Hotels should immediately know about the discount. It's a big deal to be featured in his books.
In advance of writing this page, I called a few hotels in the book and was promised discounts ranging from 10 to 20%, in any season. The discount is on the total price.
So, the money you save for one night could pay for the book easily -- with money leftover!
4. Public Transport. Just do it!
Of course, walking is free and the best way to save money. But, it's not always practical for every occasion.
So, don't hesitate to hop on Prague's trams, metro lines and buses. They can take you everywhere. And, it's extremely cheap.
Tickets for 90 minutes of all access is only 32 czk at the time of writing this. That's only about 1.25 eur.
There are no limits to transfers or your mode of travel. Go wherever, and whenever you'd like within the city during your time limit.
As a bonus sub-tip... most people forget there is a 30 minute option too. And it's only 24 czk. I mention this because a 30 minute ride in Prague can take you across the city. We aren't Berlin. So, many times this will be sufficient.
Read more about traveling in Prague and the metro system.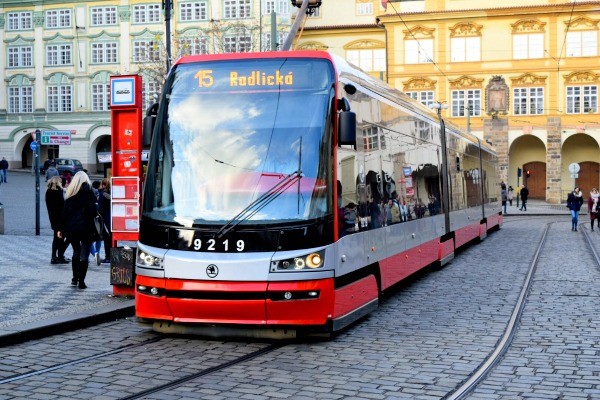 5. Early Bird Gets the Train
A budget-friendly Prague tourist guide wouldn't be complete without motivating you to plan in advance. Taking action early can save you on flights and hotel deals.
But, what about train tickets?
A lot of travelers wait to book their train travel after they arrive in Prague. That's totally reasonable and do-able.
But, I recommend you book those tickets as soon as possible when you're here. And, I would go directly to the station to do it. Because prices can increase by the day.
I went to Berlin last year and fell into this trap myself.
My friends and I couldn't sync our plans and we ended up paying 25% more because we waited two days to book the train. So, make a plan and book as soon as possible.
6. Cheap Non-Fast Food
Plenty of Prague tourist guides will tell you about kebab stands and street stands selling fried cheese. But let's not go there.
You can actually find plenty of restaurants with real food and cheap prices.
First, don't expect these to be on the beaten path from Old Town to the castle. But, you can find places just off to the side - easily. 
Second, you are looking for restaurants that offer a fixed menu with daily specials. Usually these are lunch items that are prepared for faster service and more guests.
Specials are often posted on a paper outside the restaurant or inside the menus separately. Look for them by the Czech phrase Denní menu.
7. Mini Market = Big Prices
This is a simple tip. Avoid all mini markets in the historical district. Avoid them like the plague.
Their prices are astronomical.
Instead, shop at a larger store like Tesco, Billa or Albert. These are the main store chains where locals shop.
There is one exception in Mala Strana - the small supermarket near Charles Bridge called Bio Vacek has very reasonable prices compared to the mini markets nearby.
Check out the price of water in one of these markets compared to a beer...
8. Hold the Breakfast
I am not advocating that you skip breakfast. But, from my experience, many hotel breakfasts are less than ideal. That's often because Czechs don't value breakfast like other cultures, like America for example.
So, study the breakfast reviews and opt-out when you can. Some hotels will offer you a discounted price for doing this.
Or, book something with a kitchenette. There are loads of "apart-hotels" in Prague which feature small kitchens in their rooms.
Or, visit a bakery for a light breakfast. You'll likely get a local experience and save some money.
9. Don't Over Tip
I don't mean for this idea to sound crass, but honestly, Czechs tip modestly. This means 5-10% is plenty for service.
This is the rule of thumb that I suggest you follow too.
Of course, the higher the bill is, then the more I would tip. But it's up to you.
Tipping in Prague is not directly related to service.
Waiters for example aren't paid less by their employers because of their eventual tips. So, restaurant staff don't always have the motivation to provide the best service. And, tipping is not considered direct feedback to a waiter or business.
10. Box Office Is Better
Simply go directly to the box office to save money on concerts, operas and theater performances. Online agencies and marketers offer higher prices to make commissions.
I like to find the performance online, then visit the venue directly. This is ideal for Rudolfinum Concert Hall and the National Theater. Both have box offices on the premises.
Free is Better than cheap!
This cheap Prague tourist guide requires some spending. So, what's better than cheap?
FREE! FREE! FREE!
Head over to my Prague for free page for more info. A free garden or admission is a click away.
11. Reception Deception
Sometimes it's hard to get good, honest recommendations from hotel staff.
Because their suggestions can be based on commissions they will get from service providers - it's a classic kick-back system.
And those offers are often too expensive.
Unfortunately, this culture runs deep in Prague. And hotel management will actually pay their employees less with the promise that they can make more via commissions.

Anyway, just be aware that this system exists. Or, simply ask if there is a fixed relationship with the offered service.
In the end, it's probably best to plan your trip as much as possible on your own.
12. Your Castle Visit
Prague Castle is packed with goodness. But it doesn't mean you have to over pay to enjoy it.
Good-to-know tips beforehand...
tickets are good for 48 hours
the castle grounds are free to enter - including part of the cathedral and the gardens
after 4 pm the Golden Lane is FREE
don't plan to eat at the castle - there are only a few options and those are too expensive. Go down into Malá Strana for something better.
13. Weekend Travel? Maybe Not.
Prague is a weekend destination. This means accommodation prices for Friday and Saturday are higher on average. 
Try to arrive earlier in the week or on a Sunday. You'll have less crowds to deal with also.
Monday is a perfect day to arrive. It's cheaper and most people have left or leave that day.
14. OMG! That Off-Season Pricing!
Prague tourist guides know that off-season is always cheaper since demand is much lower. Even weekends can be very cheap.
Small hotels and apartment owners in particular will slash their prices. I'm talking about up to -50%. That is some serious change if you don't mind a little colder weather.
You can also get further discounts by booking last minute deals. Try booking less than 5 days before your arrival.
The two low-season periods that I would aim for...
Approximately 10 January-1 March -- this period is the cheapest, especially the second half of January and the weekday crowds are almost nonexistent
The middle 3 weeks of November are very good also. This is between the first weekend and the last weekend. Then Christmas starts ramping up. Weekdays in early December can also be cheaper.
15. For the Family
Families with children are welcome everywhere in Prague. And with those open arms comes the family ticket option.
Look for this option at museums, galleries, sightseeing destinations and places like the zoo.
The ticket you want is called Family or rodinné. The price is usually for two adults and two children.
16. Use Uber
Yes, Uber is available in Prague. And, yes, it's cheaper than taxis - AND - more reliable (I think).
A lot of drivers also speak English.
On a side note... within the old parts of the city, meeting you driver can be a little tricky sometimes. And, there are some small streets where drivers don't like to go. So you might need to arrange other meeting points on occasion.
17. Did You Say Picnic?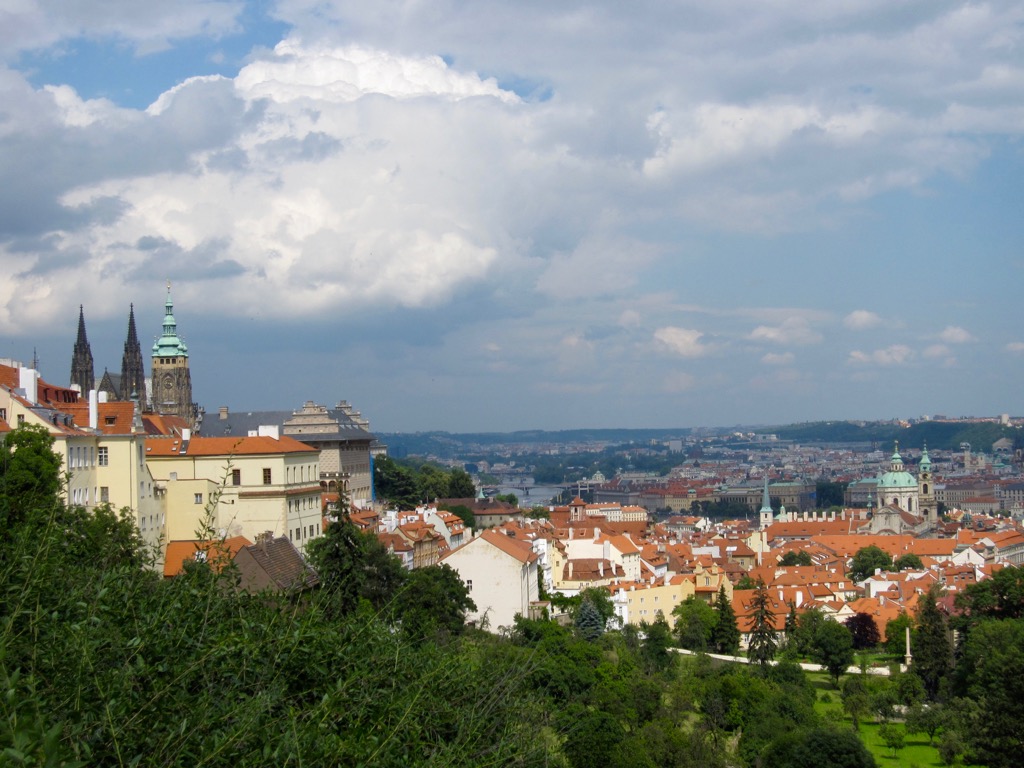 That's right!
If the weather is cooperating, Prague is perfect for picnics.
Why don't more visitors do this?
It's not complicated and can be done right in the heart of the city!
Get a few things at a grocery store and head to Kampa, Střelecký Island, Petřín, Vojanovy Sady...
Please, save on lunch and have a picnic with your loved one! Any of the above places also have playgrounds. Go kids go!
18. Planning is Winning
It ain't sexy, but if you can plan your trip in detail, you will likely save more money.
For me, planning also limits stressful situations. In stress, I make bad or impulsive decisions. Like choosing a restaurant right on the beaten path.
Start with planning one restaurant per day. You don't want to grab the nearest table on the way to the castle. 
Those types of places don't rely on good service or reviews. Frankly they don't care about your experience. So their prices will reflect that also.
19. Look Out! Hidden Charges Ahead
I hate that I have to write this one, it really ticks me off.
But, unfortunately it's a necessary part of any Prague tourist guide.
Some restaurants especially in very touristy areas (like near Old Town Square and Wenceslas Square) will charge a hidden fee for some basic services.
For example, you may be charged extra for using condiments, eating bread that was seemingly served "complimentary" or tasting the pretzels waiting on your table.
Of course, the waiter won't tell you this in advance. The charge is probably written on the menu in fine print somewhere.
So, be aware. 
This charge can also be called couvert.
Ask ahead or find it in the menu if it's not too late. You can always skip the tip if you find yourself caught in this trap.
20. Use Czech Money!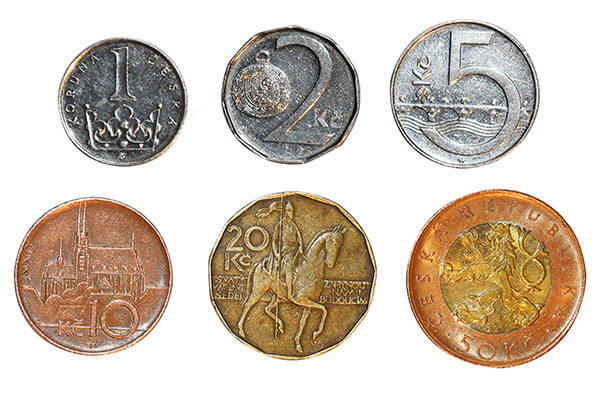 Last but not least - please use local Czech currency when paying for anything. 
Just because a store or restaurant accepts euros doesn't mean the price will be the same. I've seen people lose 20 euros on one meal because they paid in euros.
At least, check the rate before paying. Each business can have its own rate, which should be marked at the door or counter.
Your thrifty, Prague tourist guide... final thoughts!
Thanks for getting all the way down here. I appreciate you sticking around.
I tried to come up with original ideas for a money-saving Prague tourist guide, but I'm sure the list can grow longer.
Let me know if these tips were helpful.
Or contact me with your questions.
Thanks for reading!
---